Lucky Chinese Dragon
The Lunar New Year celebration began with the Emperor (Eddie Low) welcoming a 70-foot dragon to the Monterey Park City Hall on January 15.
Damian Orozco from the Chamber welcomed the guests to this unique event to begin the Lunar New Year.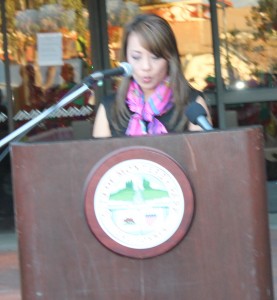 Mary Wong, CEO of Project NEO and her board of directors sponsored the dragon.  She founded Project NEO four years ago to help his son and other children with peer-to-peer tutor mentors to become more successful in school. They are dedicated to the needs of the children and the community with free tutoring.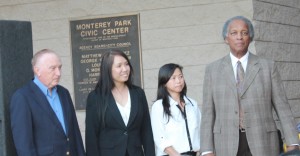 Mary Wong introduced her Board of Directors: Dominic Lau, Ken Policky, Anna Chu and Nelly Duong to the audience and thanked them for their support.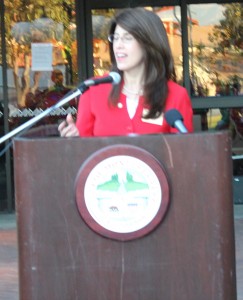 Mayor Teresa Real Sebastian introduced elected officials Anthony Wong, Hans Liang, Peter Chan and Vince Chang to the audience. She thanked Mary Wong and Jeff Chan who created the dragon for bring this lucky dragon to Monterey Park. Mayor Real Sebastian stated she was born in the Year of the Dragon. Ms. Wong brought this display to Monterey Park to acknowledge our city and the New Year. Council is grateful that everyone is welcomed in Monterey Park. This is the Year of the Horse. We are a unique city.  She thanked everyone for attending this special event to meet the lucky dragon.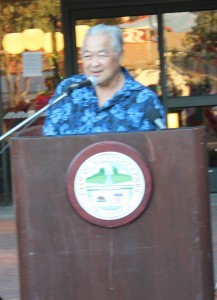 Jeff Chan created the dragon for Monterey Park in celebration of the city. He called it a chance of a lifetime to visit with this lucky dragon.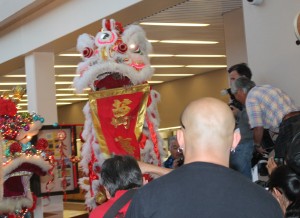 Lion dancers joined the party to celebrate the New Year. They expressed good wishes for a prosperous New Year.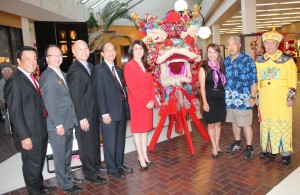 Vince Chang, Peter Chan, Hans Liang, Anthony Wong, Teresa Real Sebastian, Mary Wong, Jeff Chan and Emperor (Eddie Low) posed for a picture with the lucky dragon.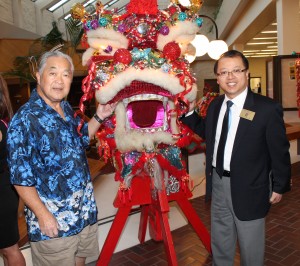 Jeff Chan and Mitch Ing posed for a picture with the lucky dragon.
Jeff Chan said it took him three to four months working three to four hours a day to complete this dragon.  In 1971 he created the two dragonheads for the movie "What's Up Doc".  He is a very creative artist who shared this special gift with the residents of Monterey Park.
Leave a Response