Family Promise Fundraiser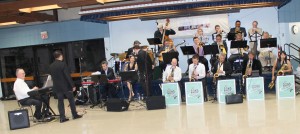 Members of the Big Band Theory provided the dance music for the Family Promise Fundraiser held on January 25 at the Langley Senior Center in Monterey Park.
Marc Rivera introduced Patrick Olguin as the Music Director and Scott Basinger as the Band Director.  The Big Band Theory is called The Smartest Band on the Planet.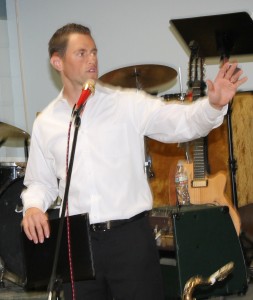 Dave Knight was the Master of Ceremonies. He welcomed everyone to this special event. He reminded the guests about the silent auction so please check out the gift baskets and place your bids during the evening.
Volunteer students from Gabrielino High School: Linh, Sofia, Sharon, Mary Ann, Neil and Kyle helped set up the dinner event.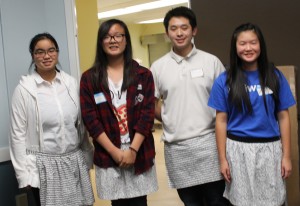 Volunteer students from Mark Keppel High School: Neva, Michelle, Tevin and Sally served the delicious Italian dinner to all of the 150 guests.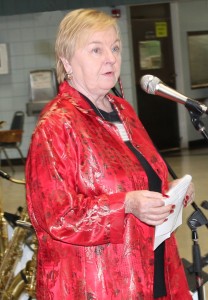 Karen Roberson, Director of the Family Promise of San Gabriel Valley welcomed everyone to this evening event. She spoke about the 17 churches that support homeless families with housing at night and provide them with meals. Their children go to school as Family Promise helps the parents to finds jobs and housing so they can get back on their feet with dignity.  They also help families with social services.  To date they have helped 47 families in the last 25 months. She thanked all of the volunteers, donors and guests for their support.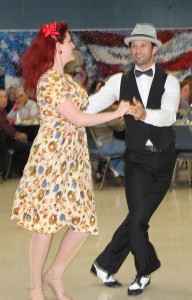 Dance instructors Danielle O'Neill and Rumer Atanasov from the Fred Astaire Studios in Pasadena provided dance instructions before the guests took over the floor.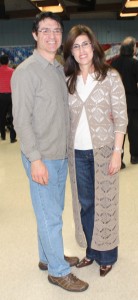 Mayor Teresa Real Sebastian and Arman Sebastian enjoyed the great music and good food.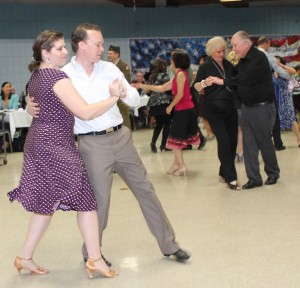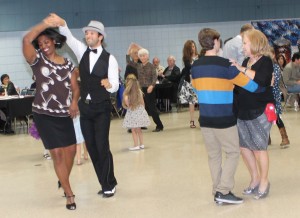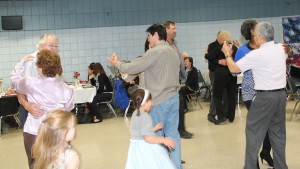 Dancers graced the floor with their special partners.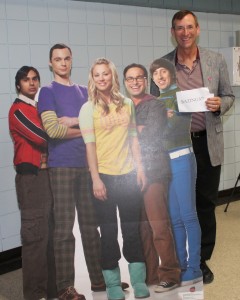 Reverend Steve Marshall of Crescenta Valley United Methodist Church in Montrose found the "Bazinga!" card under his chair and won a life size cutout of the cast of the Big Bang Theory television show. He stated that this is his favorite show on television.
Dave Knight announced the winners of the silent auction. He thanked everyone for attended this fundraising event for Family Promise. The next fundraiser will be the 3rd Annual Empty Bowls on April 26.
The delicious Italian dinner we provided by FABIOLUS (A little taste of Verona) is located at 6270 Sunset Blvd., Santa Monica, CA 90028. Their web address is www.FABIOLUS.com.
The Big Band Theory, a 17-piece band with vocalists, is available for parties, corporate events, receptions and dances. For more information please visit their website WWW.BIGBANDTHEORY.COM.
Family Promise of San Gabriel Valley always welcomes donations and volunteers. Please see their e-mail: www.fpsgv.org for more information.
Leave a Response