East Los Angeles-Montebello BPW Features Dr. Dionne Espinoza speaking on Women's Studies at California State University, Los Angeles on Wednesday, February 26th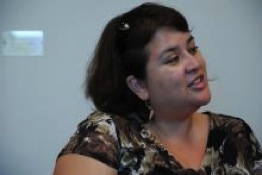 The dinner meeting starts at 4:30 P.M. with the program starting at 5:00 P.M. at the Rosemead DoubleTree Hotel Restaurant, 888 Montebello Blvd.
Dr. Espinoza and students from the Feminist Majority Leadership Alliance will discuss what is the status of the Women's and Gender Program at Cal State, LA and the need for a Major in the program. The free program is open to the public. Those who want dinner can choose from the menu.
Date:  Wednesday, February 26_   Time: _4:30/5:00 P.M._______
For more information and to make a reservation contact:
Leave a Response