Historical Sites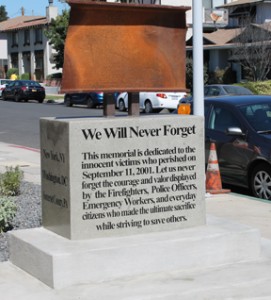 "We will never forget" is new memorial dedicated to the firefighters, police officers and first responders to the World Trade Center on 9/11.
The memorial has a section of one of the beams from the World Trade Center mounted on the based dedicated to the fallen heroes from FDNY-343, NYPD-23 and PAPD-37 as well as victims from New York, NY; Washington, DC and Somerset County, PA.
It was unveiled during a memorial service at the Alhambra Fire Department located at 301 N. First Street on 9/11/2013 by the City of Alhambra elected officials, firefighters, police officers and residents.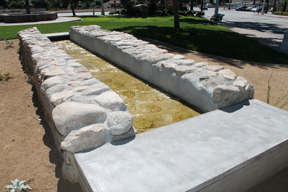 A portion of the millrace built by Joseph Chapman in 1820 with assistance from the Gabrielino-Tongva tribe to provide water for the San Gabriel Mission was unveiled on September 24 in the San Gabriel Mission's Plaza Park by elected official and community leaders.
This portion of the gristmill was unearthed last year during an excavation as part of the San Gabriel Trench project to lower the railroad tracks in front of the mission.
The 200-year-old millrace has water flowing in it much like it did when it carried water from the nearby rivers to the mission to power the gristmill and irrigate crops, making the mission one of the most successful in California's mission chains.
The project when completed will have historical drawings and information on the gristmill for the public.
The historical San Gabriel Mission is opened to the public.  For more information please call 626-457-3035.
Leave a Response