"Bahala Na (Let It Go)" Play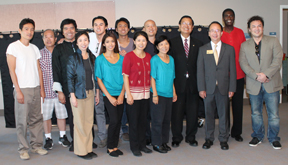 Director Raymond Ma joined with cast members Lee Chen, Cici Lau, Vic Miyahira, Amy Shu, Bonnie Suarez, Yuki Tamura, Koji Wada and Wilson Wong, Councilmembers Peter Chan and Hans Liang, former Mayor David Lau, Delario Robinson and Benson Tran in a curtain call after a stage play reading on September 15 in the Friends Room of the Monterey Park Bruggemeyer Library.
Clarence Coo wrote "Bahala Na (Let It Go)". Cici Lau produced this stage production.  San Gabriel Valley Entrepreneur Lions Club sponsored this event.
"Bahala Na (Let It Go)" is about a woman's life from her childhood in China, her arranged marriage to a Chinese man in the Philippines, the brutal events of the Japanese occupation and her difficult relationship with her only son.
Amah, the lead character, uses her real and imaginary memories that shift back and forth in different time spans throughout the entire play to provide the audience with different views of her life.
Mr. Coo depicts Amah's prejudices, idiosyncrasies and deceptions as openly as he does her will to survive and her longing for love.
The audience enjoyed this stage reading about the life of a woman who finally realized that each generation adds meaning to life.
The library sponsors several art and culture events for the public free buying cialis online of charge.
For more information on upcoming event please call 626-307-1368.
Leave a Response