EAST LOS ANGELES-MONTEBELLO BPW NAMES NANCY TOSCH WOMAN OF ACHIEVEMENT
The East Los Angeles-Montebello Business and Professional Women has selected Nancy Tosch, as it's 2013 "Woman of Achievement." She will be honored at a dinner at the DoubleTree Restaurant, 888 Montebello Blvd., Rosemead on Wednesday, October 23rd. Networking starts at 4:30 P.M. with dinner to be selected from the menu to start by 5:00 P.M.
Tosch is a volunteer with Family Promise of San Gabriel Valley, an active member of Pasadena college women, an usher at the Pasadena Playhouse, a participant in the "Making Strides Against Cancer" annual walk in Monterey Park and on the Altar Guild of St. Paul's Lutheran Church in Monterey Park.
Tosch was born in Huron, Michigan. levitra bayer original buy She graduated from Port Huron Junior College of Nursing. She worked for 37 years in pediatric obstetrical nursing in the Pasadena area before retiring from full-time work. Presently, she is working part-time at Arnold's Hardware in Sierra Madre.
She and her husband Gene have five children, five grandchildren and one great-granddaughter.
The recognition dinner is open to all interested people. For more information contact Linda Wilson, "Women of Achievement Program Chair," East Los Angeles-Montebello BPW, at (626) 307-5650 or lindalwilson@juno.com.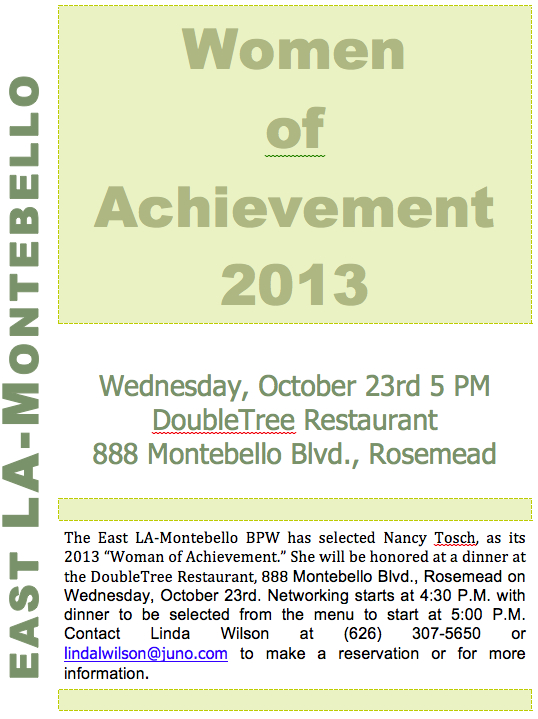 Leave a Response