2009 Crystal Youth Awards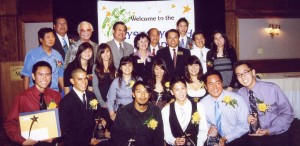 Monterey Park Councilmembers Mitch Ing, Anthony Wong, Betty Tom Chu, David Lau and Frank Venti, Dennis Gutierrez from E-1 Financial Credit Union, Val Kim from Monterey Park Golf Course and the Youth Advisory Board posed for pictures with the Crystal Youth honorees Stephanie Nozomi Lee, Jonathan Theo, Carlos Nunez, Jason Seto, Vivian Chang, Jonathan Wu, Clara Cano, Joseph Lim-Effendy, Fabian Lopez, Nathan Stephenson, Debbie Lieu and Jonathan Ma.
The Monterey Park Youth Advisory Board hosted this event on June 16 at the Monterey Hill Restaurant in Monterey Park.
Chena Ngu, Scott Chow, Brenda Eap, Marise Wong and Michael Wong were the Masters of Ceremony. They welcomed and introduced the honorees, elected officials that included City Clerk Dave Barron and City Treasurer Joseph Leon, Police Chief Jones Moy, Interim Director of the Economic Development Department Rick Gomez, Dr. Sophie Wong and Steve Perry.
The Youth Advisory Board is "Teens for Teens". They announced this year all the Boardmembers are students at Mark Keppel. They thanked all the sponsors and elected officials for their support.
The Board thanked all the parents, grandparents, teachers and mentors of the honorees for their support.
Teachers and mentors nominated Monterey Park high school students for these awards.
The four categories are Richard Garvey Leadership Award, Young Partners Award, Student Athlete Award and Inspirational Award.
The students were credited for their leadership role in the community or for their willingness to volunteer their time to improve the lives of others or for their participation in sports or for their ability to overcome adversity.
These youths have paved the way for a better future in Monterey Park.
Mayor Ing thanked all for coming to this event at the Monterey Hill Restaurant. He congratulated all the honorees. He spoke about his five-year-old son in kindergarten that would not leave his side for the first three months. Now things have changed since his son is now a teenager. His father is no longer cool. He joked that his son helps him to dress cool. His son was growing up.
Mr. Ing spoke about his family redirecting him to attend UCLA in 1981. He worked in his family's restaurant and his mother required him to bus tables regardless of his college degrees. He reminded the students you would always be your parents' child. Never be too proud to do the same work as your parents and grandparents did when they immigrated. He advised the students to respect their parents. He quoted a Chinese proverb when you drink water think of the source, which is translated to remember those people who helped you from the beginning. He congratulated the awardees.
Mayor Pro Tem Wong stated he likes the food better here than Lawry's. The steaks here are the best. He congratulated the winners, Youth Advisory Board and the judges. The young volunteers are the future of Monterey Park and the country. Volunteers' contributions are worth thousand of dollars to Monterey Park. Monterey Park is the best place to live and raise a family because of you. He congratulated the honorees and called them leaders.
Mrs. Chu thanked the sponsors and the Youth Board for putting this event together. It's a celebration of the youth. She advised the awardees you can be what you want to be. You can get around any impediments in your way. You are the only one that can stop your success. Your parents have helped to shape you. They are proud of you. She called them leaders of America. Congratulations!
Mr. Lau stated we are here to celebrate the youth of today. You are our future. You serve the community. He advised the students don't forget your parents for giving you a lot of love and care. You are successful learning from your parents. You are a role model. He wished them continued success and good luck. He asked for God's blessing on them.
Mr. Venti thanked all for being here to celebrate with the youth of tomorrow. He introduced his two great granddaughters to each of the awardees. He called it a great occasion to see all the honorees and the Youth Advisory Board. He pointed them out as young people who have achieved history. He asked God's blessing on them and America.
Mr. Barron thanked everyone for being here tonight. He congratulated the award winners. He thanked all the service clubs for their participation.
The Boardmembers thanked the Councilmembers for their support of the youth of Monterey Park. They introduced the judges and thanked them for their service. They thanked all of sponsors of this event.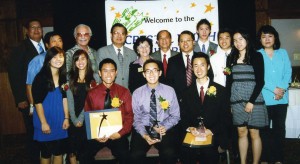 Richard Garvey Leadership Award was presented to Jason Seto, Joseph Lim-Effendy and Jonathan Ma.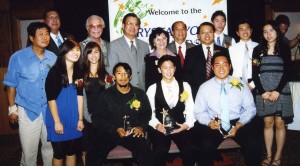 Student Athlete Award was presented to Jonathan Theo, Jonathan Wu and Nathan Stephenson.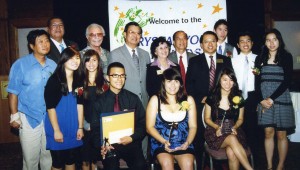 Young Partners Award was presented to Stephanie Nozomi Lees, Vivian Chang and Fabian Lopez.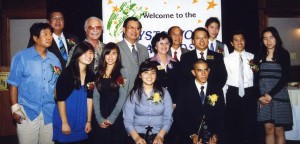 Inspirational Award was presented to Carlos Nunez, Clara Cano and Debbie Lieu.
The students each thanked their parents, teachers, mentors and friends for their support. They were very happy to be presented with their awards.
The honorees also received proclamations from Vice Chair of the Franchise Tax Board Judy Chu, Assemblymember Mike Eng and Congressmember Adam Schiff.
The Boardmembers thanked all the parents, families, teachers and advisors for their support. They thanked the sponsors and guests for their participation.
The City Council and its Youth Advisory Board have established the Crystal Youth Awards to recognize the outstanding youth and raise community awareness of their positive contributions to our community.
Leave a Response