National Night Out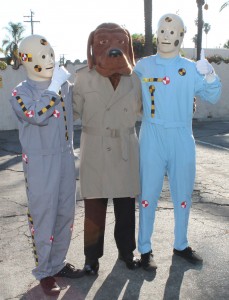 Larry, McGruff and Vince greeted the residents at San Gabriel's 19th Annual National Night Out on August 6.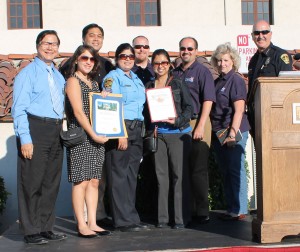 Crime Prevention Officer Stacy Gutierrez, Police Chief Dave Lawton, Mayor Juli Costanzo, Vice Mayor John Harrington, Councilmembers Kevin Sawkins, Jason Pu and Chin Ho Lioa, Susan Reyes from Senator Ed Hernandez's office and Violet Ruiz from Assemblymember Ed Chau's office at the kickoff of the event.
Chief Lawton welcomed everyone to their Neighborhood Watch event. He thanked the 100 groups with 3,000 residents for their support. Tonight is to meet your neighbors. He thanked everyone for the attendance. We have 47 block parties sponsored by 50 groups to visit tonight. He introduced the Councilmembers and department heads to the audience.
Mayor Costanzo thanked everyone for being here tonight.  It is a chance to meet the residents.
Susan Reyes from Senator Ed Hernandez's office and Violet Ruiz from Assemblymember Ed Chau's office presented proclamations of appreciation to the city for sponsoring National Night Out.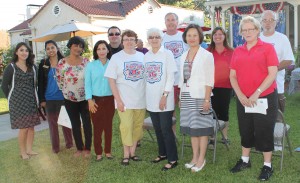 The Lohgren family sponsored one of the many parties attended by elected officials, city staff and volunteers. Cookie Cici, Joann Lewy, Martha Sanchez, Brenda Ricos, Grace Wang, Julie Sorenson, Susan Reyes, Violet Ruiz and Officer Eric Britt all enjoyed the party.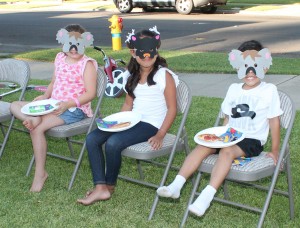 Children donned masks as part of the event.
They enjoyed good food and fun with their neighbors.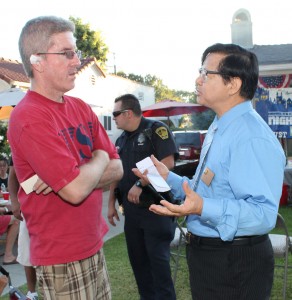 Councilmember Chin Ho Lioa visited members of the neighborhood.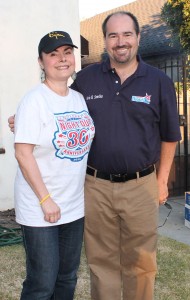 Norma Greenhalgh greeted Councilmember Kevin Sawkins at her party.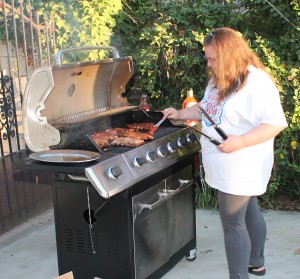 Jessica Greenhalgh was the head chief for the event.  The word went out that she grilled the best meal in town as the elected officials and staff members pulled up in droves to enjoy themselves at this party.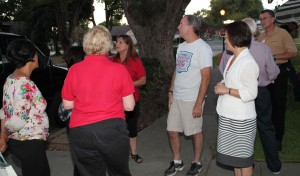 The Binham family hosted a party for their neighbors. Many lively discussions were enjoyed over delicious food.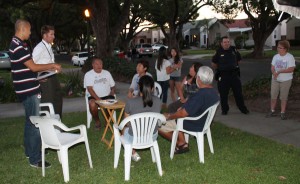 Many of the residents took time out to meet their elected officials, city staff and neighbor in celebration of National Night Out Against Crime.
San Gabriel was one of thousands of cities that sponsored the National Night Out Against Crime in the United States and across the world.
Neighborhood Watch is a program developed to teach the community how to safeguard their property against burglary and other crimes, and to encourage citizens to actively participate, as extra eyes and ears of laws enforcement, by reporting all suspicious activity to the police.
Many cities have their own Neighborhood Watch Programs for more information please call your local Police Department.
Leave a Response