BETH AND WILBUR WOO FAMILY FOUNDATION DONATES TO MERCI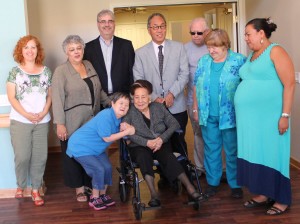 Beth Woo, Michael Woo and Pamela Woo joined Marta Escañuelas, Keith Breskin, Linda Wilson, Shel Hess, Bernice Vemilya and Reyna Pena at the John and Mary's Place on July 30.
The Beth and Wilbur Woo Family Foundation has donated funds to help with the construction of the new buildings on MERCI's 525 N. Chandler site in Monterey Park. The donation will support John and Mary's Place, MERCI's newly constructed group home for six people with developmental disabilities.
The residence's main meeting space, the Great Room, will be named in honor of the Beth and Wilbur Woo Family Foundation and family member Pamela, who is a MERCI client.
Long time Monterey Park residents Beth and Wilbur Woo established the foundation in 1999 to help non-profits in the area and to recognize volunteerism. For many years Beth Woo was a volunteer in the LAMP Literacy Program at the Monterey Park Bruggemeyer Library helping people to learn or to improve their English. In 2006 Beth Woo was awarded the library's Harvey Elparin's "Tutor of the Year" Award. Wilbur Woo, who passed away in 2012, was Vice President of Cathay Bank. He immigrated to the United States from China in 1921 at the age of five and moved with his family to Monterey Park more than 50 years ago. Their son Michael Woo in 1985 became the first Asian American elected to the Los Angeles City Council. Beth and Wilbur Woo's daughter, Pamela, has participated in MERCI's day program since 2012.
"The Woo family believes in MERCI's mission," the foundation said in a statement. "We are very happy for the opportunity to help the Merci community move closer to completing its fundraising goals and opening a residence that will fill a great need."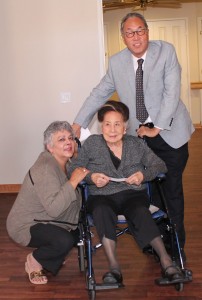 Marta Escañuelas accepted a check from Beth Woo and Michael Woo.
Marta Escañuelas said in accepting the donation, "MERCI and all our clients really appreciate this donation. It will help be a big help in the campaign to raise $500,000 to restart the construction on the new classroom and administration buildings."
Construction has stopped on the new classroom and administration buildings at MERCI's 525 N. Chandler site in Monterey Park. To restart the construction MERCI has to raise $500,000 to receive a loan from the Non-profit Finance Fund. With the donation from the Beth and Wilbur Woo Family Foundation MERCI has raised close to $100,000 in cash and pledges with $400,000 to go. MERCI will recognize all donations, but donations of $10,000 or more will have rooms named in honor of the individual, organization or business. With donations of $100,000 or more, an individual, business or organization will have building naming rights for one of the two buildings being constructed. Don't let the two buildings sit half-way constructed. Donations can be mailed to MERCI, P.O. Box 676, Monterey Park, CA 91754 or potential donors can visit MERCI's website at http://www.merci.org and make a donation online. Donations to MERCI are tax deductible, as MERCI is a 501 (c) 3 non-profit organization. For more information contact Executive Director Marta Escañuelas at (626) 289-8817 or E-mail her at martaesc1@verizon.net.
A group of parents of children with developmental disabilities from the San Gabriel Valley and East Los Angeles formed MERCI in 1955 as a school because at that time there were no educational options for their children. In 1962 MERCI moved into the 525 N. Chandler Avenue site which had been built in 1919. Over the years MERCI has moved into supporting adults with day programs and adults in residential homes.
MERCI presently serves 111 adults with developmental disabilities from all over the San Gabriel Valley in five programs. It is estimated that there are 8,000 children and adults in this area alone who could benefit from the programs if there were more space. Planning for the construction of the new buildings started in 2006 with the award of $814,000 of federal HUD funds administered by the City of Monterey Park. John and Mary's Place for six clients was completed in May. It still needs to be furnished and to pass a compliance review with the regional center.
MERCI thanks the Beth and Wilbur Woo Family Foundation for their donation, but MERCI still needs the support of the community to complete the other two buildings.
Leave a Response