World War II Memorial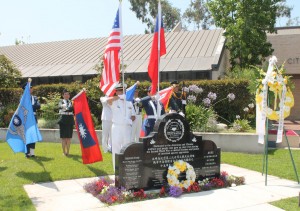 David Chen led the color guard around the American and Chinese World War II Memorial in front of the Monterey Park City Hall on July 7 witnessed by 150 elected officials, residents and their guests.
The memorial paid for by generous donations from Chinese-American community is to remind everyone of the July 7, 1937 invasion of Japan into China at the Marco Polo Bridge. Hundreds of Chinese military members and residents fought to their death to defend their homeland.  This action stated World War II in Asia.  Poland by invaded by Hitler in 1939. Japan bombed Pearl Harbor in 1941.  Soon all of Asia, Europe and the United States were involved in World War II.
The memorial began with the singing of National Anthems of the USA and Republic of China. Bob Archuleta led the Pledge of Allegiance and Dr. Sophie Wong led the Invocation.
Mr. Archuleta thanks all of the World War II veterans for their sacrifices.
Dr. Sophie Wong thanked God for the ultimate sacrifices of our veterans. She recalled the Chinese and Americans who fought for our freedoms. She asked God to keep us in peace. She asked God's blessing and guidance for all of the military personnel who fought for us.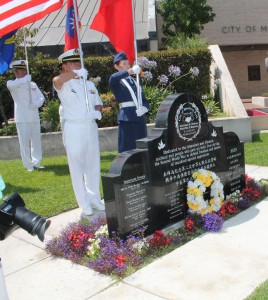 A wreathe was laid in front of the memorial by Joseph Shiue in memory of all of the men, woman and children who died for the freedom of their homeland.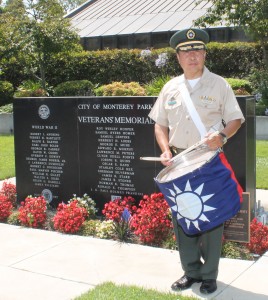 A drummer beat out the sending off of the color guards.
Sam Lo introduced the special guests in English that included Congressmember Judy Chu, former Assemblymember Mike Eng, Monterey Park Councilmembers Teresa Real Sebastian, Hans Liang and Peter Chan, City Clerk Vince Chang, City Treasurer Joseph Leon, former Mayor Betty Tom Chu, former Mayor Lilly Lee Chen, former City Clerk Dave Barron, former School Boardmember Dr. Sophie Wong, Pico Rivera Councilmember Bob Archuleta, World War II veteran William Sanchez, Assemblymember Ed Chau, Mr. Kung the Director General of TECO,  Joseph Shiue, Charly Cheung, members of Chinatown Post 628 and Alice Hu.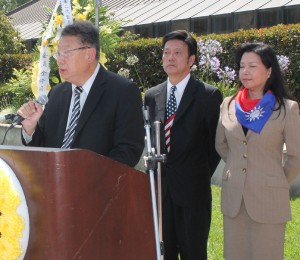 Joseph Shiue welcomed all of the guests and thanked them for joining us today to honor 76th Anniversary of the Marco Polo Bridge Resistance War. The Chinese and American fought bravely to defend China from Japan. This invasion of China was before America entered into World War II.  He spoke of the horrors of war. Today we don't forget the cost paid by Chinese and Americans for our freedoms. He thanked everyone for their support.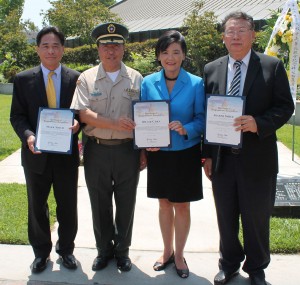 Congressmember Judy Chu recalled the Marco Polo Bridge War that began World War II. This war claimed 43 million people who were wounded or died. It took seven years to end that horrible war. She spoke of her father who served in World War II stationed in Japan. So many Chinese heritage men joined the U S military to defend their country. The Flying Tigers flew over China and took out the Japanese planes. An untold number of people fought for freedom. She thanked the committee for this event and presented proclamation to Joseph Shiue, David Chen and Mark Shieh.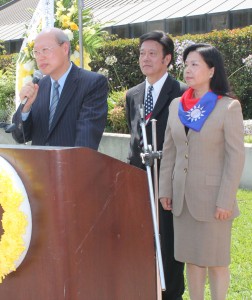 Director Mr. Kung welcomed all to this special event. History has been addressed. He thanked the people of the United States. Without their assistance the history would have changed. He thanked the USA and United Nations. He thanked them for defended freedom and justice.  We need to remember the history. He thanked the troops for their participation in Asia and the whole world.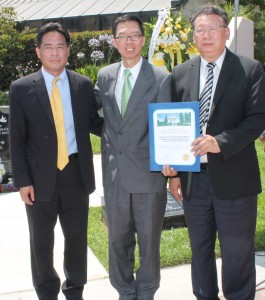 Assemblymember Ed Chau thanked the committee for the World War II Chinese-American memorial. They want to recognize the brave soldiers of World War II. The 1937 Marco Polo Bridge war began World War II. Between 1937 and 1945 over 20 million people were killed and 15 million people were wounded.
Former Assemblymember Mike Eng said he is honored to be part of their history. On July 7, 1937 the Chinese defended their country against the assault of the Japanese. He is the son of a World War II veteran. He thanked the veterans and the committee for going back in history to honor those who made our journey.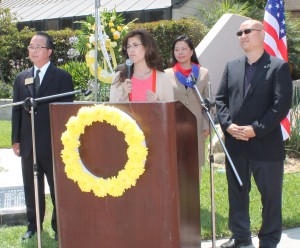 Monterey Park Mayor Teresa Real Sebastian, Councilmember Hans Liang and Councilmember Peter Chan spoke at this event. Mayor Real Sebastian thanked the people for bring up the past. It should not be forgotten.  We need to remember the past to move to the future. Councilmember Liang thanked everyone for coming to this special event. He did not experience this event except in the history books. He is proud of the monument. He is happy that we have not had a major war. He thanked the committee members for their time and efforts for this memorial. In the past many sacrifices were made by Chinese and Americans. Councilmember Chan thanked the committee for this memorial. Remember that we have peace because of their sacrifices. Let us not promote war but to preserve peace.
Mr. Lo thanked the committee.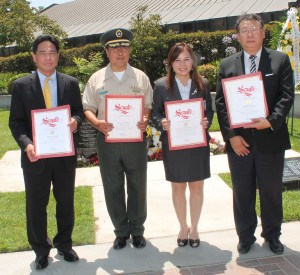 Karen Chen a member of Senator Bob Huff's staff from the 29th District presented proclamations to the committee.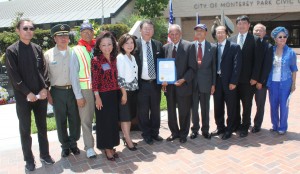 Assemblymember Curt Hagman from District 60 provided a proclamation to the committee.
Charly Cheung said lets never forget.
Alice Hu thanked everyone for being here today. The Chinese fought an eight-year war for their freedoms.  We must never forget they fought and died for freedom. We must never forget life is a treasure. We are grateful for this country the land of opportunity. She asked God to bless America and everyone.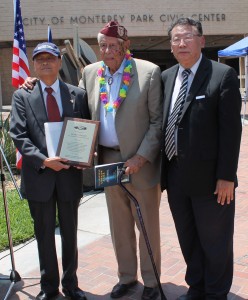 Committee members Joseph Shiue and Charly Cheung presented 95-year-old World War II veteran William Sanchez with an award and book in thanks for his service to his country and dedication to this memorial. Mr. Sanchez thanked all for this event. Monterey Park is well recognized for this monument.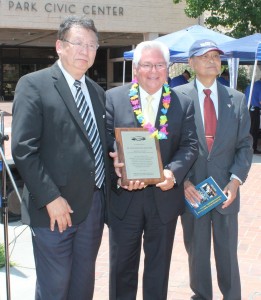 Committee members Joseph Shiue and Charly Cheung presented Bob Archuleta with an award and book in thanks for representing the military in Washington, DC. Mr. Archuleta thanked all for being here and remember all those who fought in World War II. He thanked the city and other elected officials for bring the Chinese and American residents together. We give our thanks to this great nation. The Chinese and Americans are part of our melting pot. The Japanese-Americans who fought for us. He thanked the Chinese who fought for freedom. He thanked everyone and asked God's blessing on all.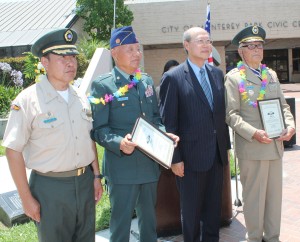 World War II veterans from the Chinese military were honored.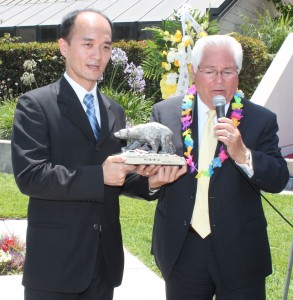 Bob Archuleta honored Colonel Wu.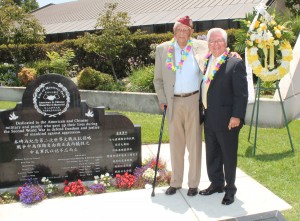 Bob Archuleta and William Sanchez at the memorial.
Charly Cheung said we are here to remember World War II where the Chinese and American fought together. We can forgive but not forget. We remember history. He thanked everyone for being here.
Betty Tom Chu stated the committee pays for the memorial upkeep.
The event ended with refreshments for all.
Leave a Response