Sergeant First Class Robert Hernandez Recognized As 49th Assembly District's Veteran Of The Year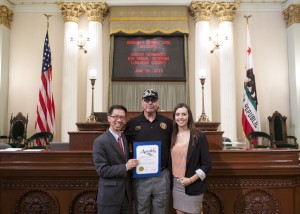 On June 26 Assemblymember Ed Chau (D-Monterey Park) recognized United States Army Sergeant First Class (SFC) Robert Hernandez as the 49th Assembly District's 2013 Veteran of the Year during the 6th Annual Veteran's Recognition Luncheon hosted at the Sacramento Convention Center.
"I am honored to recognize Sergeant First Class Hernandez as the 49th Assembly District's Veteran of the Year," said Assemblymember Chau.  "He is being recognized for his sacrifice and his service as a member of the US armed forces and for his commitment and distinguished career in public service."
SFC Robert Hernandez served from 1967 – 1969 and is a veteran of the Vietnam War. He was a member of the 101st Airborne Division ("Screaming Eagles"), first of the 502nd B. Company, Long Range Reconnaissance Patrol Unit. He served his tour in the North sector of Vietnam, near the demilitarized zone and received the National Defense Service Medal, the Vietnam Defense Service Medal, the Vietnam Campaign Medal, the Vietnam Combat Medal, the Army Air Medal, the Army Commendation Medal, the Bronze Star, and two Purple Hearts for his service.
Upon leaving military service, SFC Hernandez worked for the Los Angeles Department of Recreations and Parks and retired after 35 years as a Park Supervisor. He is currently Commander of Post 139 of the American Legion in Alhambra, CA.
Leave a Response