Scudder Scholarships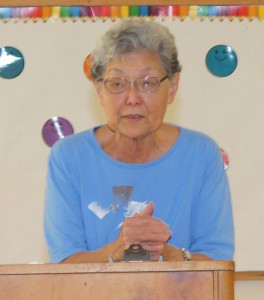 Marion Sumimoto welcomed everyone to the Laura Scudder Scholarship Presentation held on June 9 at the Garvey Ranch Park Museum in Monterey Park.
She thanked the Scholarship Committee Jim Iwaki, Pauline LeMire, Alice Nishmoto, Delores Seidman and Shufen Sokhom. She introduced the Historical Society Boardmembers First Vice President Mary Louise Uranga, Second Vice President Shufen Sokhom, Secretary Marion Sumimoto, Treasurer Jim Iwaki, Curator Lilly Lew, Docent Coordinator Mara Hernandez, Volunteer Hours Coordinator Beryl Williams and Key Docent/Parking Valet Paul Perez.
Mrs. Sumimoto introduced the honorees Deborah Chavez and Maria Litchel Capiral to the audience.
Mrs. Chavez introduced her family members her sister Norma, her son-in-law Matt, her daughter Frances and her great-nephew Jeremiah.
Ms. Capiral introduced her boy friend Marcus.
A delicious lunch was served catered by Claro's Italian Market; desserts were a whipped cream cake from Kelly's Bakery and cookies from Claro's.
John Scudder, a grandson of Laura Scudder, was not able to attend this scholarship event.
Jan Sokhom spoke about Laura Scudder who went to school to become a nurse. She interned at the hospital and graduated with high honor. She worked as a private duty nurse and met her husband back east. They moved first to Washington State and moved south to California. They finally settled in Ramona Acres now called Monterey Park. She opened a restaurant near the courthouse. The judges and attorneys challenged Laura Scudder to study law. She self-studied for three years and passed the bar. She never practiced law but the knowledge helped in her businesses. Mr. and Mrs. Scudder had four children. Her husband suffered from ill health and she had to support the family. She decided to sell potato chips in Monterey Park. At that time potato chips were sold in large medal tins. The chips were broken and greasy.  Laura Scudder decided to sell them in wax paper bags. She hired the local women to seal three sides of the wax paper bags with their irons at home. The bags were filled at her factory that was located at the corner of Atlantic and Garvey (a plaque is located at the site).  Laura Scudder is the "Potato Chip Queen" of Monterey Park. She also made mayonnaise and peanut butter. Laura Scudder took care of her employees. She was an amazing woman.
Maria Capiral thanked the Scholarship Committee. This money will help her with her nursing education. She will be transferring to Cal State Long Beach.
Deborah Chavez thanked the group for the scholarship. She is a returning student in her second year at Rio Hondo College studying Business Management. She hopes to transfer to LaVerne College or she may go to Grand Canyon University in Arizona her home state. She ate Laura Scudder Potato Chips as a child. She thanked them for this support. This money will help with her education. She raised four children and is getting a divorce. She needs this degree to get a better job.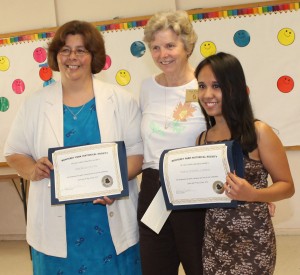 Beryl Williams presented the scholarship money and certificates to Maria Capiral and Deborah Chavez on behalf of John Scudder.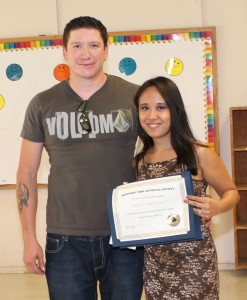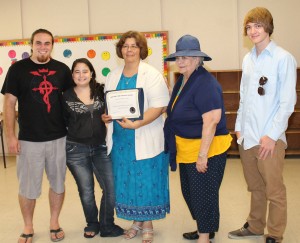 Maria Capiral and Deborah Chavez are surrounded by their family members to celebrate this wonderful event.
Each year John Scudder offers scholarships to students to help pay their educational expenses in the field of business, food service and nursing in honor of his grandmother Laura Scudder.
Applications are send each year to local schools by the Historical Society of Monterey Park. For more information please call 626-307-1267.
Leave a Response