Mission Model Contest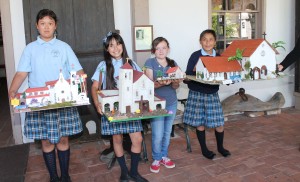 Citloli Molina, Annalia Alonzo, Kaithlyn Lozano and Monica Hernandez with their mission models received praise and prizes for winning the San Gabriel Mission Model Contest on May 11.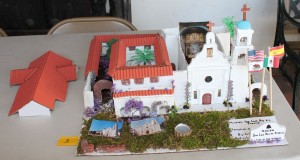 First Place winner Citloli Molina recreated the Mission San Luis Rey.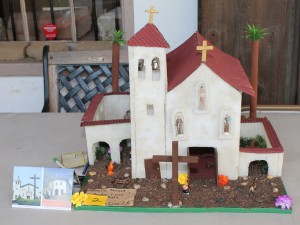 Second Place winner Annalia Alonzo recreated the Mission Santa Clara.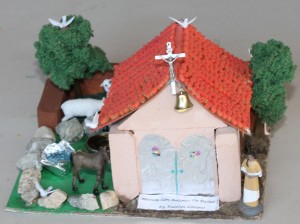 Third Place winner Kaithlyn Lozano recreated the Mission San Antonio de Padua. She also received the Director's Award.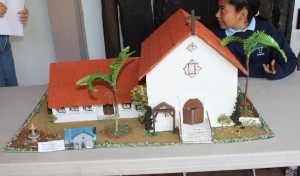 Fourth Place winner Monica Hernandez recreated Mission San Rafael Archangel. She also received the Director's Award.
The contest judges from the Ramona Museum were Julia Hendricks, Joseph Claro and Teresa Diaz and Tongva Indian Matt Lovio.
The students created each mission complete with gardens, fountains, cemeteries, livestock and people.
They created their missions using cardboard, plastic flowers and trees, macaroni roof tiles, plastic animals, stones, real flowers, hair gel for water, fountains, gardens, crosses, flags and more.
The students were judged on their creativity.

Tongva Indian Matt Lovio explained each item of his regalia from his deer hide skirt to his paint to the guests.
He said that the men in his tribe wore skirts since the weather was warm and the woman wore long skirts. Deer hides were cured and used for clothing and they were decorated with beads, shells and coyote tails.
He explained red paint stood for blood, white paint stood for honesty and integrity and black paint stool for the afterlife.  The colors were painted in an everlasting circle.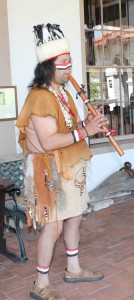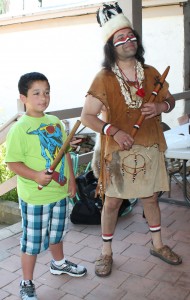 Matt Lovio showed the young guests some of his tribal musical instruments and tools. He also gave the students a history lesson on his tribe that is over 19,000 years old and are called People of the Earth.  He described their early life at the mission where they were introduced to horses, cows, guns, large boats and more imported from Spain.
The mission was a place of worship, a fort and a ranch. The missionaries changed their Tongva culture.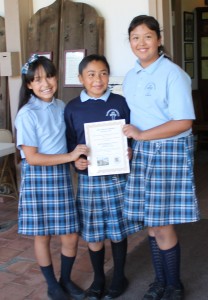 Students from Nativity School in El Monte won the award for having the most student participation.
Leave a Response