Crystal Youth Awards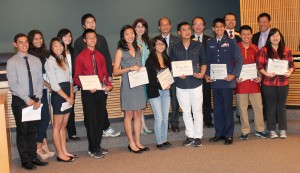 Monterey Park Councilmembers Teresa Real Sebastian, Anthony Wong, Peter Chan and Mitch Ing and City Clerk Vince Chang joined with Youth Advisory Group  Boardmembers Zipong Gan, Mia Cornejo, Adam Bravo, Courtney Chan and Elaine Cheung during the May 14 ceremony.
Michael Ramos, Eileen Lu, Karen Ha, Virgil Tang, Angela Lin, Reanna Liaw, Melissa Hyang, Eric Ho, Nathan Lewis Legaspi, Matthew Ryan Louie, Cecilia Mark and Chelsea Zeng were honored with this award for overcoming adversities in their lives.
Mayor Teresa Real Sebastian said this award celebrates the youth in Monterey Park. She thanked the Youth Advisory Group and called them the eyes and ears in the community. She thanked them and staff for this special event.
Mayor Pro Tem Anthony Wong stated this award recognizes our future leaders and their contributions to our city, state and country. He congratulated them.
Councilmember Peter Chan congratulated the students who received this award. He recalled helping a young woman with issues who is now graduating from college. Keep up your grades for the future.
Councilmember Mitch Ing acknowledged the youths as our future leaders. He suggested they don't look back. Be focused on what you want to do. Please volunteer for the city.
City Clerk Vince Chang said he has been involved in the city for several years. He is a member of LAMP Optimist Club who strives for the youth. You are leaders. Please stay in the community. He thanked them.
Members of the Youth Advisory Group agreed that this award recognized the youth in our community. They are striving for a better future. This program is put together by teens for teens.
Leave a Response