Monterey Park's Birthday Celebration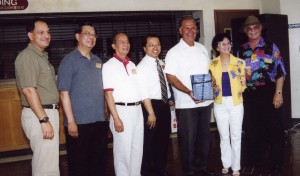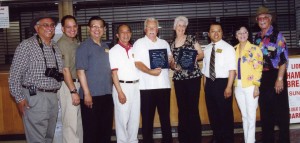 Mayor Mitch Ing, Mayor Pro Tem Anthony Wong, Councilmembers Betty Tom Chu, David Lau and Frank Venti, City Clerk Dave Barron and City Treasurer Joseph Leon shared the spot light with the 2009 Play Days Grand Marshal Frank Corral and Honorary Grand Marshals Sally McComb, and her brother, Allen "Skip" McComb at a reception held at City Hall on May 16.
Elected officials, guests and residents enjoyed the traditional breakfast buffet hosted by the Monterey Park Woman's Club just before the Play Days Parade.
Vince Chang was the Master of Ceremonies. He welcomed everyone to this special event. The city's 93rd birthday party celebrated by Play Days in Barnes Park from May 14 – 17.
He introduced some of the special guests that included Mayor Mitch Ing, Mayor Pro Tem Anthony Wong, Councilmembers Betty Tom Chu, David Lau and Frank Venti, City Clerk Dave Barron and City Treasurer Joseph Leon, Police Chief Jones Moy, Fire Chief Cathy Orchard, City Manager June Yotsuya, Alhambra School Boardmember Bob Gin, Garvey School Boardmember John Yuen and his fellow committee members Ana Casillas, Robert Flores, Gwen Kishida, Betty Lu, Joan Merino and Herb Motonaga.
Mayor Ing welcomed all to the Play Days Parade. He thanked the committee for putting together the parade. He praised Frank Corral, former NFL Super Bowl Kicker/Punter and UCLA Kicker for winning the games for his alma mater. He welcomed Mr. Corral to Monterey Park.
Mayor Ing congratulated Sally McComb, a retired police dispatcher with 29 years of service to the city and Allen "Skip" McComb, a retired Firefighter and later Fire Chief with 31 years of service to the city.
The Historical Society honored the McCombs, who were raised in Monterey Park, as this year's Honorary Grand Marshals.
Mr. Wong stated that all of you are VIPs. He thanked everyone for being here to celebrate Play Days. Enjoy the party at Barnes Park.
Mrs. Chu said she was glad to be here to talk to our Grand Marshal. She went to all the games and watched Frank Corral play many times. She thanked Skip McComb for his years as our protector. She thanked Sally McComb for all her dedication to our safety.
Mr. Lau thanked everyone for celebrating Monterey Park's 93rd birthday. Our city is highly diversified. We are a city with a heart. Many of our residents are volunteers. We are the gateway of the San Gabriel Valley. He congratulated the Grand Marshals and asked God's blessing on all.
Mr. Venti joked that he is the old mayor so now he is the last speaker. He thanked everyone for being here to celebrate. He thanked the Grand Marshals. Enjoy the party in the park. He asked God's blessing on all.
Mr. Barron thanked all of coming to the party. He recognized all the members of he Historical Society. He stated that in seven years the city would be 100 years old. Have a great time.
Mr. Leon thanked all for being here today. He thanked the Woman's Club, the Recreation and Parks Department and the Committee for putting together this party.
City Manager June Yotsuya welcome all to this event. She thanked the Grand Marshals for their participation in the parade.
Frank Corral was presented with a proclamation in honor of Play Days.
Sally McComb and Skip McComb were presented with proclamations in honor of Play Days.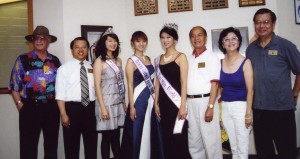 Councilmembers posed for pictures with Miss Teen Taiwan Patrice Chang, Miss Goodwill Ambassador Jessica Chiu and Miss Taiwan World Christine Dai.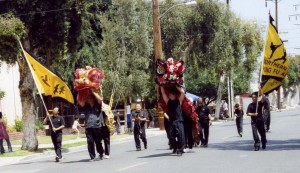 The Lion Dancers led the parade down Garvey Avenue to Barnes Park. The lions are a symbol of good luck in the Chinese community.
Members of Mark Keppel High School Band, San Gabriel High School Band, Montebello High School Band and Alhambra Unified High School Band marched down the street. Several other school bands joined them marching in competition for awards.
Mayor Mitch Ing and his family waived to the residents from a classic car. Mayor Pro Tem Anthony Wong and Garvey School Boardmember John Yuen shared a ride down the way.
Councilmember David Lau and his wife enjoyed the parade. Council Betty Tom Chu shared a ride with Betty Lu. Councilmember Frank Venti shared his ride with Barney, his dog and a few of his grandchildren. City Clerk Dave Barron and Assemblymember Mike Eng also shared a ride.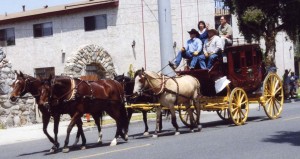 City Treasurer Joseph Leon and his wife rode on top of the famous Wells Fargo Stagecoach. He joked that he was on top of our money. Members of the Wells Fargo family rode inside the coach.
Grand Marshal Frank Corral shared his car with his wife. He enjoyed the fan fare from the audience.
Honorary Grand Marshals Sally and Skip McComb shared a car as long time residents recognized our retired employees.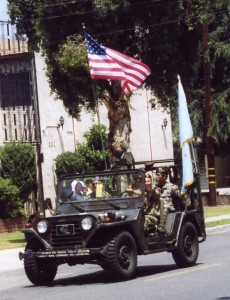 The Stars and Stripes were honored by several groups in the parade including the U.S. Army 5th Special Forces Chinese Mung Association.
Parade Chairman Vince Chang shared a car with members of the Arts and Culture Commission.
Chamber of Commerce Interim Executive Director Daniel Lim rode down the way. He waived to all the business owners and residents. The Chamber is looking for new membership.
Miss Chinatown and her court waived to all the spectators, as did members of the Miss Taiwan Pageant.
Students who participate in the Monterey Park G.R.E.A.T. Program, which is dedicated to keep kids off of drugs and alcohol and helps mediate family issues, joined Police Chief Jones Moy. It is an expansion of the D.A.R.E. Program.
Members of the Monterey Park Angels Sport Teams took pride in their participation in the parade.
Fire Chief Cathy Orchard enjoyed her ride in the city's hook and ladder truck that danced down Garvey Avenue to the delight of children of all ages. The fire department also held an open house as part of the Play Days party.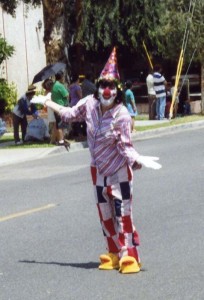 Little Sippo the Clown Princess Crystal Buck danced down the way. She has marched in the parade for many years in honor of her granddad, Zippo the Clown.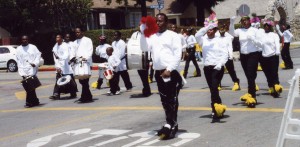 The tune of the music changed with the appearance of the Johnny Hi-Steppers and members of Sherry's Gotta Dance, who danced to a different beat.
The parade also featured members of the Ballet Folklorico Estampas De Mexico and members of the Falun Dafa with their lotus flower decorated float.
The participants of the parade that ended at Barnes Park enjoyed all the carnival rides and various food booths sponsored by local service clubs while they waited for the Awards Ceremony.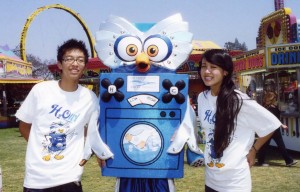 H2Owl, dressed for summer and his friends enjoyed the party.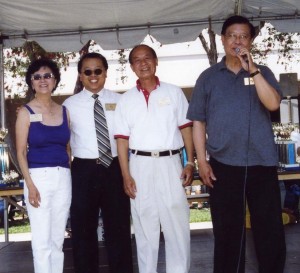 Councilmembers Mitch Ing, Anthony Wong, Betty Tom Chu and David Lau presented the awards to all the winners that were present. They thanked the students, their parents and teachers for their participation in the parade.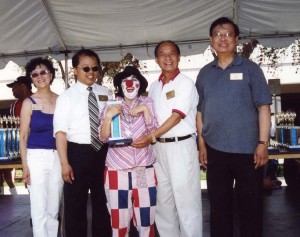 Little Sippo won an award.
The Mayor's Award was presented to the Boys and Girls Club of the West San Gabriel Valley.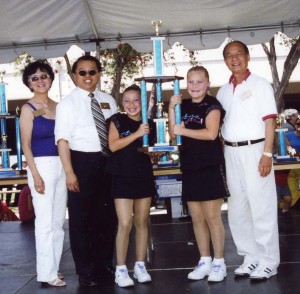 Members of Sherry's Gota Dance received the Musical Award. They danced down the house.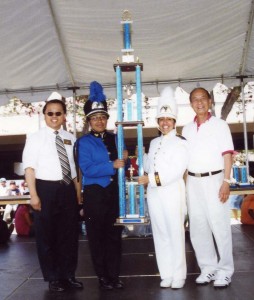 Members of Montebello High School Band won the coveted Sweepstakes Award, a wonderful gift for the seniors to receive just before graduation.
It was a wonderful parade and a great birthday bash.
Leave a Response