CONCERT ANNIVERSARY
By Mona Raskin
The Claremont Young Musician's Orchestra proudly celebrated their twentieth anniversary (season finale) on Sunday, May 31st, 2009 at 7:30 p.m. The event took place at the Bridged Hall of Music (Pomona College).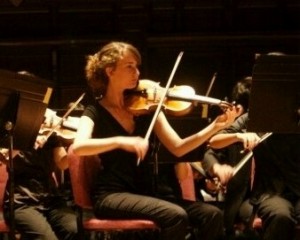 It was an especially proud and exciting evening for us since our grand daughter Laura Bedol (violinist with a special principal asterisk next to her name) would be performing with the entire orchestra as well. We had a perfect view of Laura sitting center stage, front row. Violin section!
The program began with Conductor, Roger Samuel welcoming the guests to this special concert.
#1 The William Tell Overture Gioacchino Rossini
This well- known classical piece is the story of how William Tell was
Forced to shoot an arrow into an apple perched on his son's head by
Occupying forces in his country. The music in the last section has
Become known as the Lone Ranger's theme song.
David Meyer, cello & CYMO Alumnus, 2994
#2 Cello Concerto #1, Op,107 Dimitri Shostakovich
Allegreto, Erie Lee, cello
#3 Violin Concerto in E minor, op,64 Felix Mendelssohn
Allegretto Non Troppo- Allegro Molio Vivance
Miclen Laipang, violin
#4 Overture XX David Johnson
David Johnson, Conductor- CYMO Alumnus, 1994
INTERMISSION
#5 Symphony #6 in G Major Antonin Dvorak
Allegro con brio, Adagio, Allegretto Grazioso- Molto Vivace,
Allegro ma non troppo.
The climax of this outstanding concert brought much applause for all
The performers and especially for Roger Samel, conductor!
Reception
Our group met afterwards at the nearby Edmonds Ballroom where a
Lovely banquet, buffet awaited all the guests. May 31st happened to also be
My daughter, Keri's birthday., as well as Laura's mother's special day., so it
Was a wonderful way to celebrate it In addition, it also was the eve of our
41st wedding anniversary , June 1st. Three celebrations, Laura's concert.,
her mother's birthday and her grandparent's 41st wedding anniversary!
Many, many , many thanks to our Laura for making it all possible!!!
1 Comment
Leave a Response