Lion's Club Breakfast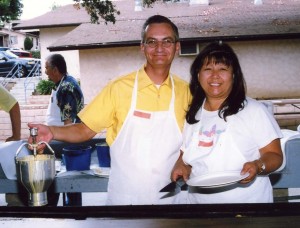 Lions Chris and Elaine Jeffers cooked pancakes for the hungry guests on June 7 in the Lion Picnic Pavilion in Monterey Park.
Every year members of the Monterey Park Lions Club hold their Ham and Eggs Breakfast with all the pancakes you can eat fundraiser. The proceeds are used to pay for eye exams on children attending the grammar schools in the city.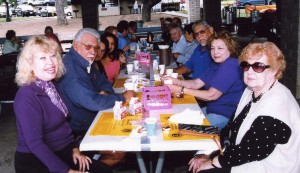 Members of the Monterey Park Opti-Mrs. get together on the first Sunday in June to support the Lions. It has become their annual tradition to share a table with their families and friends.
Mayor Pro Tem Anthony Wong, Councilmember David Lau and City Treasurer Joseph Leon joined with their fellow Lions to make and serve breakfast to the residents.
Cheerleaders from Mark Keppel High School worked as servers. They took orders, served the food and cleared the tables. Their group will receive funds from the Lions to purchase items for their team.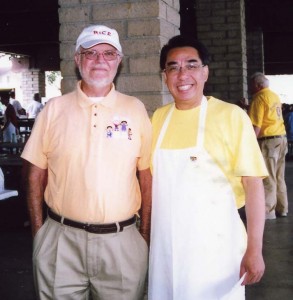 Garvey School Boardmember Bob Bruesch and Lion Stephan Lam had time for a visit.
Mayor Mitch Ing with his family, Councilmember Betty Tom Chu with her family and City Clerk Dave Barron enjoyed a delicious ham and eggs breakfast with pancakes.
This event is where old friends make new friends and neighbors meet their neighbors in the park on a Sunday morning in June.
Residents who have moved away from town always find themselves coming back to enjoy the Lions Ham and Egg Breakfast, which has become a family tradition in Monterey Park.
Leave a Response