Peter Chan's Headquarters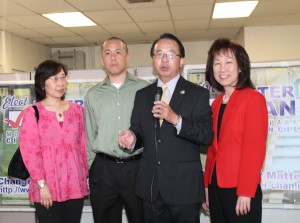 Monterey Park City Council Candidate Peter Chan, Jenny Chan, Kevin Chan and Vicky Eng welcomed everyone to the Grand Opening of his campaign headquarters on January 19.  The headquarters is located at 321 W. Garvey Avenue #B across the street from St. Stephens Church.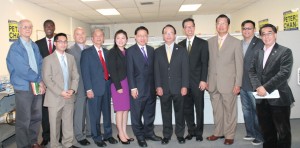 Peter Chan is joined by his friends and supporters including former Assemblymember Mike Eng, Assemblymember Ed Chau, Councilmember David Lau, Councilmember Anthony Wong, Becky Cheng from Congressmember Judy Chu's office, School Boardmember Henry Lo, Council candidate Hans Liang, Treasurer candidate Stephen Lam, Clerk candidate Jeff Schwartz, Delariou Robinson, Water Boardmember Thomas Wong and City Treasurer Joseph Leon.
Mr. Eng called Peter Chan a great neighbor and friend. He has been working hard for the city. This election is about morality on the city council. He spoke about the lack of respect on the current council by two Councilmembers. They are not doing the city business. Peter Chan will bring sensibility to the council. He works to raise funds for the library. Vote for Peter Chan on March 5.
Mr. Chau said he supports Peter Chan, who is a longtime friend and classmate from La Salle High School. He is a good friend and a well-qualified individual. He will bring positive changes to Monterey Park since he is currently involved in the community. Please vote for Peter Chan on March 5.
Mr. Lau stated Peter Chan is one of the best-qualified candidates to serve on the city council.  He owns a successful business and is involved in the community.  He has proven his leadership in the community and will make positive changes. Peter Chan has the community's support. He supports Peter Chan to be elected to the council.
Mr. Wong advised the audience that your great support would make Peter Chan the next Monterey Park councilmember. The infighting by Councilmembers costs the city money. Peter Chan will serve the people with kindness. Please support Peter Chan a team player who will improve Monterey Park. Please vote for Peter Chan and Hans Liang for city council.
Ms. Cheng stated Judy Chu supports Peter Chan for council. He is a longtime friend who supports the city, the library and is working to keep our firefighters in the city.
Mr. Brusech stated he is tired of the infighting in City Hall. We need an open council. Peter Chan can heal the wounds and mend the fences in the city.
Mr. Lo said he supports Peter Chan as the next councilmember. He is concerned about the decision of two Councilmembers to leave the last meeting. We need Peter Chan to take the city's business seriously. Please vote to elect Peter Chan and Hans Liang to the city council.
Mr. Liang stated he is honored to attend Peter Chan's event. It is an exciting time to change the council to move the city forward. It is exciting to run with Peter Chan for council.
Mr. Lam said he supports Peter Chan for council. He is honest business and fights for Monterey Park residents. It is time for change on the council.  We need to fight for Monterey Park.
Mr. Schwartz told the group he is a friend of Peter Chan. They work together for the city. He needs the support of Peter Chan, Hans Liang, David Lau and Anthony Wong to be elected city clerk.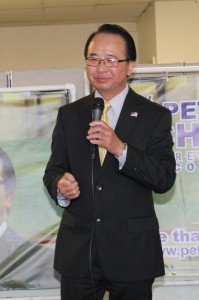 Peter Chan told the audience we would to work together to improve the city and move Monterey Park forward. We need to change the city for the better. He has a business background and would create a more business friendly city to improve the tax base. We need to clean up the city and fill the potholes. He supports public safety and will work with the police and fires departments. He asked for your vote on March 5
Leave a Response