Thousands of Cranes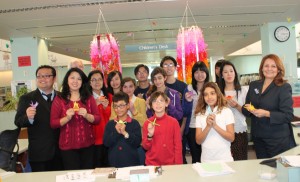 Members of the Monterey Park Rotary Club, students from Repetto Elementary School and students from Mark Keppel High School joined together at the Monterey Park Bruggemeyer Library on January 17 to present their Origami project of love in memory of the Sandy Hook massacre.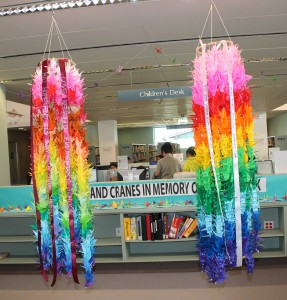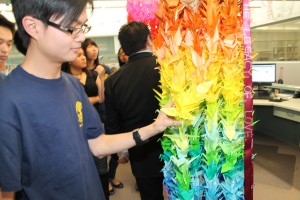 100 student volunteers created the 2,000 cranes in 20 hours. Students trying to understand the event folded each crane as a token of love for the young students and their family members.
The cranes were displayed as a rainbow of color said President of the Rotary Club David Anantasin to represent the diversity of all people coming together. The cranes are a symbol of peace. The legend is 1,000 cranes will make your dreams come true. These cranes will be displayed in the Children's Library in Newtown as a symbol of hope and love. He thanked all of the volunteers.
Principal of Repetto Natalie Tee Gaither had the students create the cranes to connect with the students of their age to show their love.
Library Director Norma Arvizu was honored and blessed to have the cranes to display for the children to help them understand the tragedy.  The cranes were on display at the library for two weeks before they were send to the Newtown Rotary Club to be displayed at the Newtown Central Library.
Senior Library Clerk Diana Garcia helped create the mobiles.  She stated over 1,000 people a week visit our library.
Roland Truong a member of the Interact Club said the cranes are a message of hope showing support of the people of Newtown.
Children's Services Senior Librarian Christina Yueh stated her department would teach children how to create cranes to be displayed during the city's Harmony Month.
Two students of Repetto said this project helped them to express their feelings about the event in Newtown.
Library Director Norma Arvizu thanked everyone for their support of this project of love.
Leave a Response