The Nest for 1000 Cranes Update
Response from Mike Toll, President
The Rotary Club of Newtown, CT
Hello David,
I am very happy to mention to you, your fellow Rotarians and additional friends in Monterey Park, CA, that the 1000 Peace Cranes gifted to Newtown have found a very wonderful, LARGE nest to call their home.
They are living in the Newtown Healing Arts Space, a dynamic cultural center located right in the center of our community.  And like the Peace Cranes, the Healing Arts Space itself was born in the moments after the Sandy Hook School tragedy.  In this weblink (http://www.smugmug.com/gallery/28051609_jhCjzr#!i=2369453612&k=TcNRQc5)
photos 73 and 74 are close-up images of the mobiles, and the other 121 images provide a sense of their nesting grounds.
The Peace Cranes nicely "frame" the two sides of a projection screen hung from the ceiling.  In the one photograph presented below, I am in the Healing Arts Space with a Chinese Exchange Student (she is here for the school year) and a fellow Rotarian who is a native of Italy.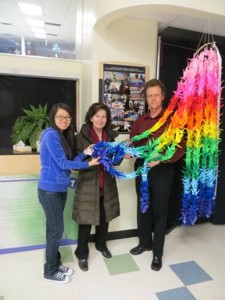 We Newtown Rotarians and other visitors to the Newtown Healing Arts Space hope that even from a distance you can sense how perfectly your Peace Crane mobiles contribute to the color, the creativity and the contemplative ambiance of this new community space.
Gratefully yours in Rotary,
Mike Toll
President
The Rotary Club of Newtown, CT
Leave a Response