Local Author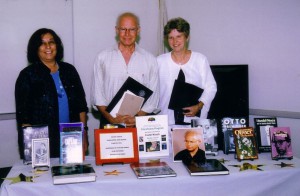 Monterey Park Librarian Cindy Costales honored Foster Hirsch and Beryl Williams during a joint program sponsored by Friends of the Monterey Park Bruggemeyer Library and the Historical Society of Monterey Park on July 29.
Foster Hirsch is a Professor of Film and Drama at Brooklyn College of the City University of New York. He is the author of eighteen books on the history of filmmaking.
Mr. Hirsch is a 1957 graduate of Ynez School and a 1961 graduate of Mark Keppel High School.
He spoke about his love of movies made in the 1950s and also shared his stories with us about the film stars he met in his research. He interviewed Harry Bellefonte, Eva Marie Saint, Douglas Fairbanks and many more for his books.
Mr. Hirsch advised the audience that he does his first draft in pen and rewrites several drafts until he is satisfied with his story. He does have a computer and now uses it to write.
He always wanted to teach students about the movies and the theater. He joked that he never did his books for money although his agent did get him some nice contracts.
Mr. Hirsch wrote his first book about Elizabeth Taylor but he never interviewed her. He did this book as a film critic.
He writes about his reactions to the events in the movies and is not happy with contemporary films.
Mr. Hirsch, who lives in New York, stated that the 1950s films reflect the American culture but it did not change our culture.
He remembered going to the old Edwards Theater that was located at the corner of Garfield and Hellman for the Saturday matinees with his friends.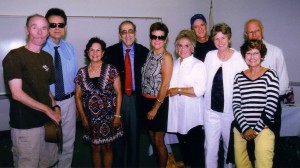 Bill Barger, Le Roy Anthony Reaza, Geraldine Colquhoen, Louis Sergio, Ph.D., Mary Davison, Jean La Cues, Beryl Walker, Lettie Belcastro, Johnny Thompson and Foster Hirsch are all graduates of Mark Keppel. They enjoyed this mini class reunion.
Foster Hirsch donated an autographed copy of his eighteen books to the Monterey Park Bruggemeyer Library.
Leave a Response