New Mayor in Town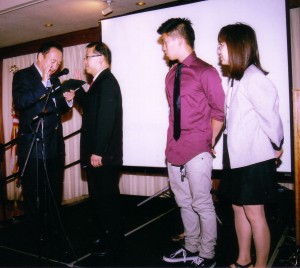 Dr. Matthew Lin administrated the Oath of Office to Mitchell Ing as the new Mayor of Monterey Park in front of his family and friends on June 26 at a Special Meeting held at Luminarias Restaurant.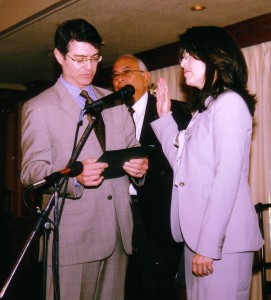 Armen Sebastian administrated the Oath of Office to Teresa Real Sebastian as the new Vice Mayor at the same meeting. Their families and friends shared this event.
Mayor David Lau called the meeting to order.
Derek Ing led the Flag Salute and Miss Monterey Park Veronica Summer sang the National Anthem.  Corey Ishida, Pastor of Evergreen Church asked God to bless Mayor Mitchell Ing and the Council. He asked God's blessings on America.
City Clerk Dave Barron introduced the special guests that included former Monterey Park Mayors Lily Chen, Rita Valenzuela and Francisco Alonso, Rosemead Councilmember Margaret Clark with Congressional candidate Jack Orswell, Assembly candidate Dr. Matthew Lin, Alhambra Councilmembers Steve Sham and Gary Yamaguchi, Police Chief Jim Smith, Fire Chief Jim Birrell, Treasurer Joseph Leon, Librarian Norma Arvizu, Annie Young, Thomas Cody, Dan Costly, former Alhambra School Boardmember Sophie Wong, South Pasadena Councilmembers Michael Caccoitti and Phil Putman and San Gabriel Councilmember Mario De La Torre.
The Council voted to rotate the offices of Mayor and Vice Mayor, which the Council does every nine and one-half months throughout the Councilmembers' four-year term. This gives everyone a chance to serve as the mayor.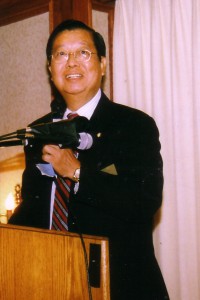 Outgoing Mayor David Lau congratulated Mitch Ing and Teresa Real Sebastian. As a third term mayor he is proud of all we have accomplished in Monterey Park, his home for the last 33 years. The residents participate in the city as volunteers. They make us a great city. He spoke about the sales tax trending up and the many difficult cuts to the city staff. He stated that there would be no more staff reductions in the future. They are improving the downtown areas for more pleasant shopping for the residents. He said they are planning to bring in more business to the city. He mentioned the new Farmers Market held on Friday afternoons from 4 PM to 8 PM at the library parking lot. Our crime rate is down. He is proud of the police department. Monterey Park is a safe community to raise a family.  We have a sense of pride in our city. He has raised over $56,000 in scholarships for the ten local schools since 2007 from his mayoral dinner events. He asked that we all work together for a better Monterey Park. He thanked the Council, staff and volunteers for making his job easier. The thanked his wife, Cici for her dedication and caring. He expressed his love for her. He asked God to bless America, Monterey Park and everyone.
Larry Sullivan was the Master of Ceremonies. He joked about having a white picket fence around Mayor Ing's house and teased him about leaving his trashcans in public view. He warned Vice Mayor Real Sebastian that the white picket fence would be moved to her home when she is mayor.  A white picket fence is used to beautify the many vacant lots in the city.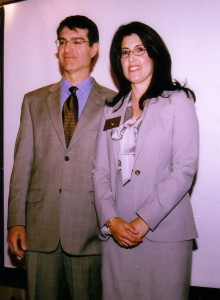 Armen Sebastian and Vice Mayor Teresa Real Sebastian received applause and best wishes from the audience during in ceremony.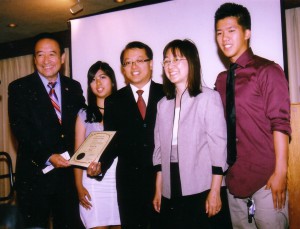 Mayor Mitchell Ing received his badge and gavel from his wife, Gloria Ing and his children Chantal Ing and Derek Ing during the ceremony.
Mayor Ing thanked Luminarias Restaurant for hosting this event and all of the restaurants that donated their special dishes for a Taste of Monterey Park. He thanked Larry Sullivan and Dr. Matthew Lin. He welcomed all to this special evening. He is the mayor for a second time. He spoke about his childhood in Canada to the halls of City Hall and all the changes in his life. He realized that he would not be a professional hockey player since he is too short and he would never look like Erik Estrada of CHIPS since his hair in not curly even with a bad perm from his mother. Michael Woo, a former Los Angeles City Councilmember was his role model.  His wife, Gloria Ing was very active in the city and introduced him to Louise Davis, former Monterey Park mayor and city treasurer who was his mentor. He thanked his wife and children for being part of his journey. He spoke about being a member of the Rose Parade Committee and planned to have a float in the parade to honor the city's 100th birthday. He also helped raise funds for new band instruments for Mark Keppel High School and the annual Veterans concert held in November at the high school. His grandfather and his wife's grandfathers were veterans of World War II. He also introduced the audience to You Tube where the Fung Brothers sing about Monterey Park. He thanked all of the guests on behalf of the families.
The guests enjoyed the delicious food and conversation at the end of the event.
Katrina Asatourian , Director of Catering, arrainged this event. Her phone number is 323-268-4363. Her e-mail is kasatourian@srcmail.com.
Leave a Response