Monterey Park Fire Update
Structure Fire at 1000 Block of West Garvey
June 26 at 9:20 last night, Monterey Park Fire Department responded to a reported structure fire with explosion at 1038 West Garvey in Monterey Park. On arrival, the first in Fire Engine reported a one-story house, fully involved with fire. There were adjacent structures on both sides of the fire building. Neighbors stated the house was recently vacated by tenants. The fire was knocked down in twenty-one minutes. Monterey Park Fire was assisted by units from Alhambra Fire Department. There were no injuries to any of the Firefighting personnel. The cause of the fire is currently under investigation by Monterey Park Investigators with assistance from Alhambra Fire Investigators and the Monterey Park Police department.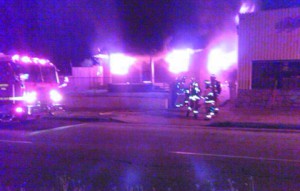 James Birrell Sworn-in as Monterey Park Fire Chief
The Oath of Office Ceremony installing James Birrell as Fire Chief for the City of Monterey Park was held on Wednesday, July 11, in the City Council Chamber.
Permanently appointed by City Manager Paul Talbot as Fire Chief for Monterey Park, James Birrell has been temporarily holding this post as Acting Fire Chief for the past two years. James Birrell began his career with Monterey Park in 1983 as a firefighter. During his tenure, he has held the ranks of Firefighter/Paramedic, Engineer, Fire Captain, and Battalion Chief. In addition to working on fire and emergency medical incident responses, he has coordinated and managed a number of specialized assignments ranging from administration of the Emergency Medical Services Division, City-wide Disaster Preparedness Program including the Community Emergency Response Team (CERT), City's Emergency Operations Center, homeland security grants, paramedic instructor, and fire service instructor. He has a bachelor's degree in Professional Studies from Cal State Long Beach and is currently working on his master's degree in Emergency Services Administration.
Leave a Response