Hot Off The Grill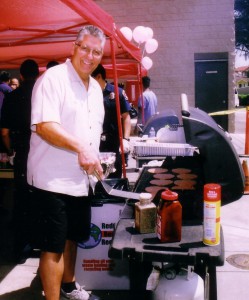 Fire Chief Jim Birrell takes his turn flipping hamburgers on June 2 at the Monterey Park's Burger / Hot Dog Barbeque held at Station One.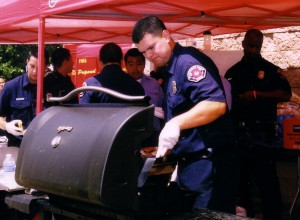 Firefighters manned grills with the help of members of the Fire Reserves and Fire Explorers.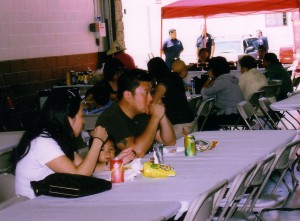 Inside of the station was turned into a large picnic area with tables set up for the hungry guests.
Student volunteers from Schurr High School helped collect the funds and tickets as well as handing out the drinks and chips.
The proceeds benefited the 2012  "Making Strides Against Breast Cancer".  A walk was held at East Los Angeles College on June 10 to honor cancer survivors and to remember those who were lost to the disease.  Some funds were also given to the Fire Explorers and Reserves Programs.
Face painting was available for children of all ages and funds were donated to the cause.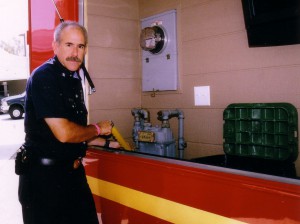 Captain Rick Burroughs demonstrated how to turn off a gas meter in event of an earthquake at the Disaster Preparation Trailer.
Residents explored the fire station and all of the equipment that belongs to our hometown fire department.
Captain Matt Hallock from Monterey Park Fire Department, Station 61C coordinated this special event.  He wished to thank all of the residents and supporters that include the following companies that donated goods for our Fire Department BBQ: Del Rosario Meat Company – Long Beach, California Party Rentals – Arcadia, Ralph's – Monterey Park, Costco – Montebello and Frito Lay chips were donated from someone that wishes to remain anonymous. There were also several donations of cash that helped us maximize our donation to the Making Strides Against Breast Cancer foundation.
The event was a success as well.  We sold all initial tickets totaling 500 as well as additional sales the day of the event.
Leave a Response