Art Show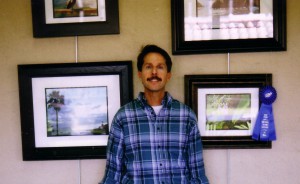 Ed Stepanian proudly displays his color photographs at The Glass House, home of the San Gabriel Fire Arts Association on June 9.
His picture, "Orchid" won First Place in the contest.  He took the picture at the Arboretum when Ruby, a friend of his suggested that he accompany her as she picked flowers for the Peacock Café.
Some of his other photographs "Laguna Palm Sunset", "Posing Pelican" and "Fiery Sunset Over Laguna" were taken at Laguna where his parents make their home.  Another picture was taken at "Hubbard Glacier" which is melting.
Mr. Stepanian is currently an Art Teacher at Belvedere Elementary School in Los Angeles.  He sells his artwork at the Citrus Art Walk in Covina, California. His pictures are done in natural color. He does not use "Photo Shop" to enhance them.
Mr. Stepanian's company is SpiritRising Photography in Rosemead, California. He phone number is 626-319-4068 and his web address is www.spiritrisingphotography.com.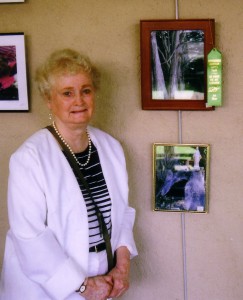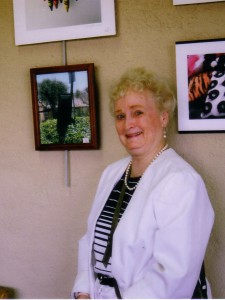 Brigid Bray won Honorable Mention for her picture "Soldiers Saluting". Some of her other photographs "On Root of Jesus Flow of God's Love" and "A Door With Nowhere to Go" were displayed. She says she sees beauty in various places and takes the pictures. She is also a painter.
Sister Brigid Bray is a longtime member of the Fine Arts Association and has won several awards for her artwork, which is for sale.
Sister Brigid lives in the San Gabriel Mission Convent.
Please contact the San Gabriel Fine Arts Association at 626-282-1448 for more information.
Leave a Response