2012 Mission Model Contest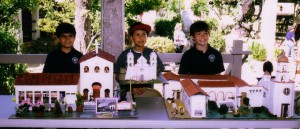 Fourth graders Marcus Gomez, Javier Garibay and Kody Chuang won the contest in their group at the April 21 event held at the San Gabriel Mission.
Chuck Lyons welcomed everyone to this annual event.  This year all of the applicants used their new website for entries. It was hard to choose the winners as all of the missions had a lot of hands on details.
In California fourth grade students study the history of the California missions as part of their education. They learn about the various missions and write reports. Some students and their families visit the missions in person to see history come to life.
The students have a chance to construct their own missions out of cardboard, soda bottles, colored paper, toilet paper rolls, popcorn, noodles, bells, beans, clay, crosses and more. They added flowers, trees, animals, people, gravestones and crops to bring their creations to life.
One student put her mission in a bottle. Another student added the mountains behind his mission. Another student added a rainbow over her mission.
Their creativity was wonderful.  The judges Julia Henricks, Joseph Claro and Bruce Morgan from the Ramona Museum had the special job of choosing the winners from the 40 entries in this year's contest.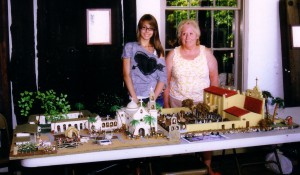 Alayna Andrews and Rosemary Nazemi won for their any age group entries.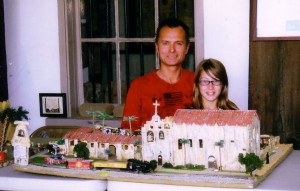 Robert Andrews and his daughter, Mia Andrews won for their family entry.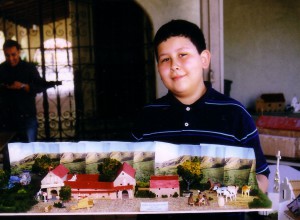 John Sweetin won the Director's Award along with Denia Limon.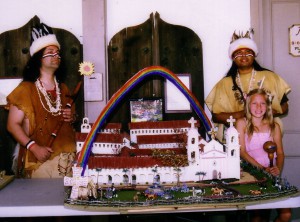 Lexi Andrews won the Overall title. She saw a rainbow after last year's event on her way home and decided to have a rainbow over her mission.
The principals from San Gabriel Mission and Jamie Escalante Grammar Schools won gift packs for their students' participation in the contest.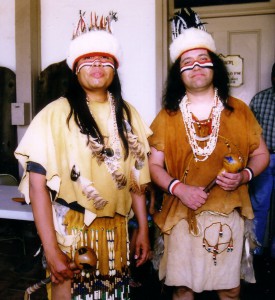 Andy Morales and Matt Lovio sharedtheir culture with the contestants and their families.  They played native musical instruments, danced, sang native songs and told stories handed down through time.  They answered questions from the guests about their regalia, body paint and more to the delight of the children.
Several lucky people won raffle gifts from the Mission Gift Show during the event.
Mr. Lyons thanked all of the contestants and their families for their participation.
Leave a Response