Mission History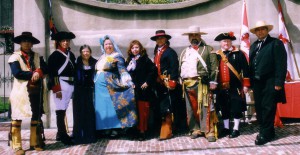 Joseph Lopez, Dave Moto, Cecelia Wauchek, Kathleen Rabago, Lisa Garcia, Dennis Carlos, Robert Smith, Steve Romero and Don Juan Bautista Alvarado celebrated the De Anza Expedition on March 24 in front of the San Gabriel Mission.
The re-enactors wore period clothing as they taught the guests about the arrival of the expedition at the Mission on their way up the state to settle Alta California in 1776. They called the Mission San Gabriel de los Temblores because the earth trembled on the day they arrived on the site.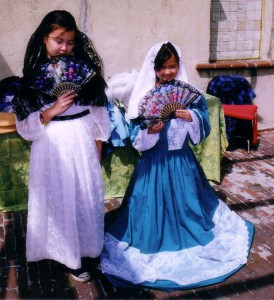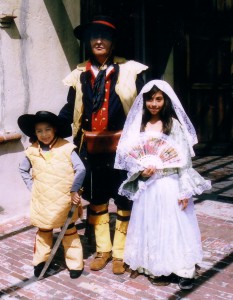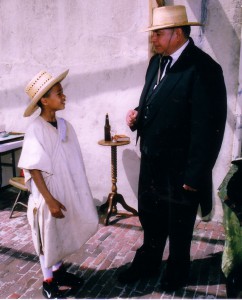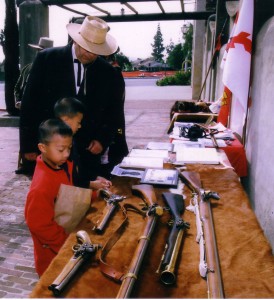 Children enjoyed dressing up in clothing worn by their ancestors during the 1770s and viewed the weapons the soldiers used to protect the group from danger.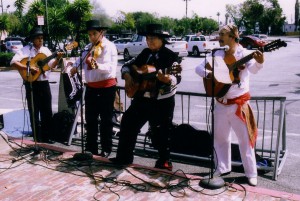 "Playeros" entertained the visitors with tradition early California music that was played in that time period.
It was a step back into California History at the San Gabriel Mission.
San Gabriel Mission History Day is to inform people about mission history: people, cultures, events, buildings, artwork, artifacts, plant life and more. Contests are also planned for some months.
Thousands of fourth-grade students study about early mission history as part of fourth-grade curriculum in schools in California.
Regular admission fee applies if visitors would like to visit the mission museum and gardens. Admission fee is $3 for age six to 17, $5 for age 18-61, $4 for seniors age 62 and older, and age five and younger is free.
Persons age 17 and younger must be with a parent or guardian age 18 or older.
Free self-parking is available on a first-come basis in the church lot at 427 S. Junipero Serra Dr., San Gabriel, CA 91776. More information is available at 626-457-3048 and www.sangabrielmissionchurch.org.
San Gabriel Mission was founded on Sept. 8, 1771 and is the fourth oldest of 21 missions in California.
Leave a Response