Historical Society of Monterey Park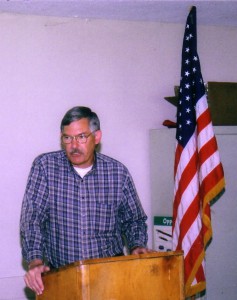 Chuck Lyons, Public Relations Officer of the San Gabriel Mission was the guest speaker on April 1 in the Garvey Room located at the Garvey Ranch Park.
Mr. Lyons who runs the Mission Gift Shop thanked the docents for making the efforts to preserve history. It is very valuable.
He spoke about of the old artifacts that must be preserved and many cannot be displayed because of vandals. The San Gabriel Mission had to install security cameras to protect these treasures.
Mission history is to be preserved for new generations. He spoke about all of the volunteers who help with the gardening and upkeep of the grounds as well as the mission.
Students from San Gabriel High School Historical Society have been painting the wrought iron fences in the gardens.
Many volunteers came to the rescue after the windstorm destroyed the cross in the gardens on December 1, 2011. They cleaned up the fallen tree limbs and removed the cross for repair. Many people donated money for the repairs.  The repaired cross will be dedicated on Good Friday, April 6 during a special service.
The Mission was built in 1771near the river and moved to the current location in 1775 to avoid flooding.
The Tongva Indians built the Mission in a fourteen-year period using manual labor. It was like a hotel built between the two passes (roads) that were traveled at that time. The Gabrielino Tongva culture was worked into the Mission parish
Mr. Lyons presented a slide show that featured many of the highlights of the Mission tour that included the outdoor kitchen, the tannery, the well, the bell tower and the gardens.
The museum was originally lodging for the priests.  The gardens are the final resting place for many of the priests and Indians. The gardens now feature many native plants.
The Missions are part of California History. Each year over 400 children from the fourth grade take the tour of the San Gabriel Mission as part of their education.
He invited everyone to visit the nearby San Gabriel Mission located at 427 S. Junipero Serra Drive in San Gabriel.
Leave a Response