Monterey Park Bruggemeyer Library Presented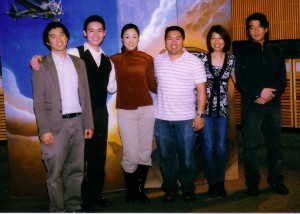 Howard Ho, Rich Liu, Jully Lee, Jimmy Ng, Marilyn Tokuda and Yoshe Irie members of
The East West Players' Theatre for Youth presented "Taking Flight: The Katherine Cheung Story" on March 10 in the Monterey Park City Council Chambers.
Katherine Sui Fun Cheung broke racial and gender barriers by taking to the skies in the 1930s as an aviator. She was the first Asian American female to be a licensed pilot. Ms. Cheung flew with Amelia Earhart and other members of the "99 Club".  She became an accomplished stunt pilot. Her career as a pioneer aviator remains an inspiration for those who refuse to be grounded. In 2001, the Museum of Flying inducted her into the International Women in Aviation Pioneer Hall of Fame.
Jully Lee brought Katherine Cheung to life with her wonderful performance. You could feel the thrust of the plane and see the beautiful sky and the earth as she was flying in the wild blue yonder.
Rich Liu successfully played multiple characters as her father, flight instructor, cousin, audience members and her beloved husband.  He used various props (glasses, a hat, a cane and a notebook) and mannerisms to achieve each different person in the story.
This show was designed for students in grammar and junior high schools and sponsored by Southern California Edison.
The audience of all ages enjoyed this special Saturday matinee.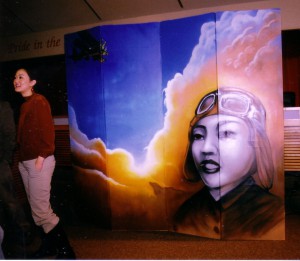 Sano painted the beautiful background; a graffiti artist who has displayed his art is various locations.  This is his second beautiful background used by the East West Payers in their youth productions.
Howard Ho designed the sound effects used during the two-actor performance.
Jimmy Ng was the stage manager.
Yoshe Irie was the sound master.
Marilyn Tokuda is the Arts Education Director. She thanked the audience for supporting the arts.  The East West Players goal is to continue to offer quality theatre for young audiences.  These productions are shown at public schools that have reduced or cancelled their art programs.
A special thank you to Cici Lau for providing the Monterey Park Bruggemeyer Library with this production. Cici Lau is an actress and producer who provides the Monterey Park residents and their guests with live theatre productions several time a year with the support of Councilmember David Lau, her husband and the Library Board.
You are invited to another production: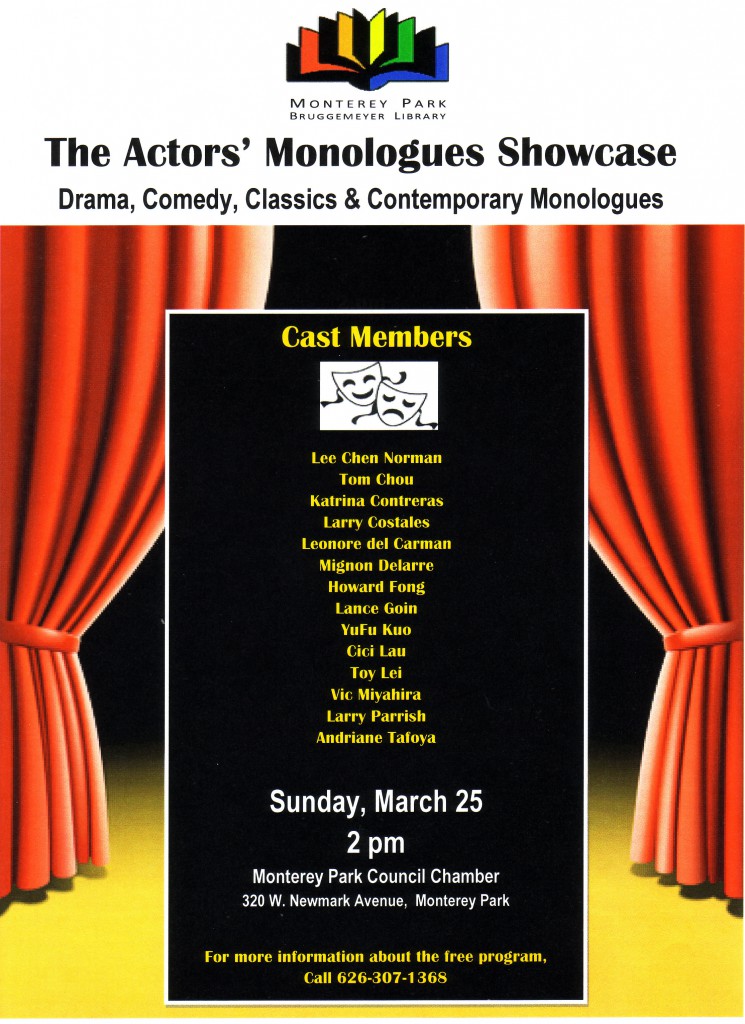 The Writers' Block will have their third self-published chapbook readings at the Friends' Room in the library on Sunday, April 29 at 2:00 pm.
Leave a Response