LEGALITY OF MONTEREY PARK CITY COUNCIL ACTIONS ON FIRE SERVICES QUESTIONED
The Monterey Park City Council is proceeding with appointment of a committee to evaluate a Los Angeles County proposal transferring the City Fire Department and ambulance service to County Fire Department control.  The County proposal would eliminate many firefighter positions and sideline City fire equipment. This appears to be in direct violation of City Code Section 2.04.065.
"The County proposal will reduce fire staff within the city by 30% and eliminate a fire truck and ambulances," said Yukio Kawaratani, a leader of Concerned Citizens – a civic organization opposed to losing control of the City's fire and ambulance services.  "We passed a ballot measure with an 85% vote of the people to protect us against this kind of action. This city council majority is shunning its own City Code."
County Fire pays around 25% more than comparable Monterey Park salaries and benefits, and the city firefighters have been pressing for more than a decade to be incorporated into the County system. "The City Council shouldn't be doing this but it is," added resident Lucia Su, who has worked on prior fire and ambulance service retention campaigns.
The question of the legality of City Council actions on the County Fire transfer will be raised by Concerned Citizens at the Council's March 7 meeting and a request made to schedule the issue for discussion and remediation at the subsequent March 21 meeting.
Further information is available from nocountyfire@hotmail.com.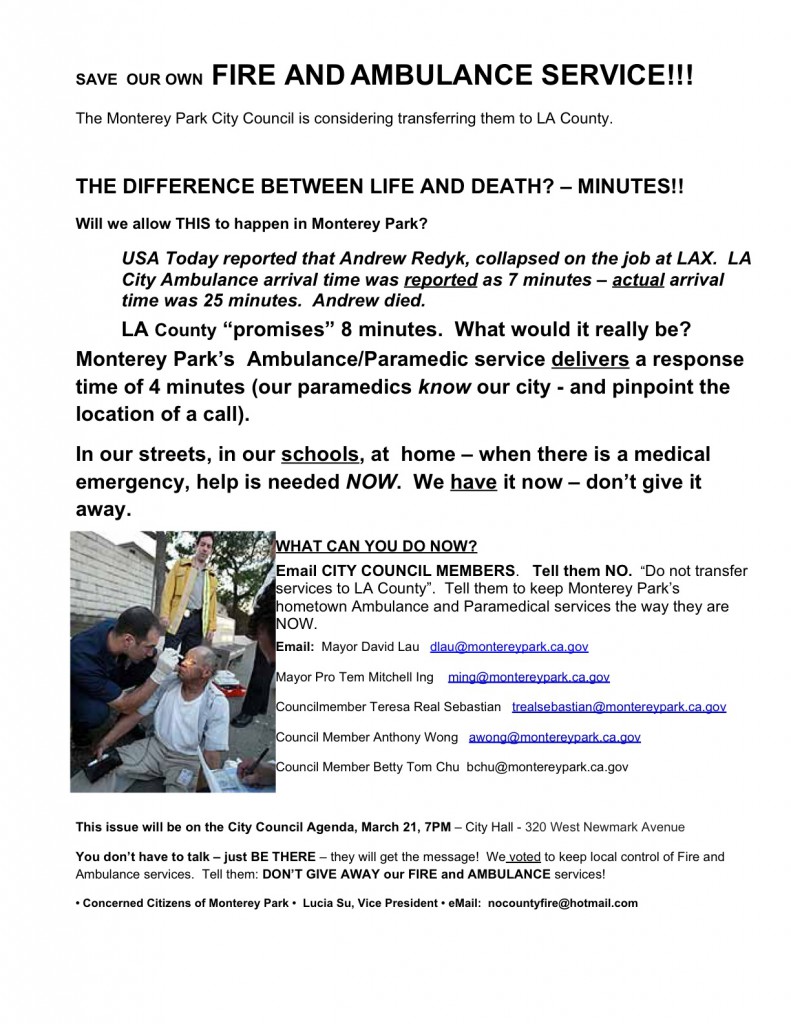 Leave a Response