Mission History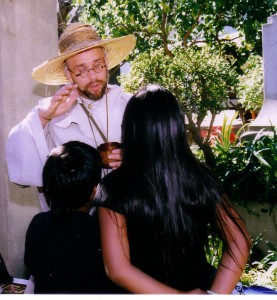 Father Junipero Serra (Bruce Buonauro) a famous re-enactor explained the history of the California Missions to children and their parents during Mission History Day held on February 4 at the San Gabriel Mission in San Gabriel, CA.
Father Serra told the young people how he lived and traveled in early California. He also spoke about his favorite "Jumping Beans" that kept him company over the years. He gave the students one of his beans as a reminder of their visit with him in the mission gardens. He played his flute and answered their many questions about life in the early days.
Bruce Buonauro will be playing Father Junipero Serra in a document-drama to be aired next year to celebrate Father Serra's 300th birthday in 2013.
Fourth grade students in California study the history of the missions as part of California history.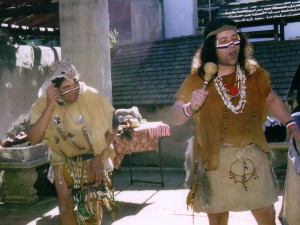 Andrew "Guiding Young Cloud" Morales and Matthew "Sky Eagle Sings With His Heart" Lovio shared their Tongva culture with the students and their families.  They had a display of several animal skins that included a deer, a rabbit, a coyote as well as a bow and arrows and musical instruments that included a clapper stick, rattles and flutes.
Young Cloud and Sky Eagle explained the way their ancestors hunted, fished and gathered food.
The woman and girls gathered acorns, which was one of their main staples.  The men and boys hunted and fished for food.
They ate a mush made from acorns as well as fish, squirrels, deer and other small game.
The Tongva used the skins from deer to make their clothing and decorated them with feathers, beads and seashells.
Young Cloud and Sky Eagle performed several songs and dances to the delight of the guests.  They also answered many questions from the audience.
For more information on the Tongva culture please call: 626-286-1632 or e-mail: eyesoftongva@yahoo.com
Klaus Duebbert, the resident blacksmith, showed the students and their families the way the blacksmith used his furnace. He heated up a copy of the official Mission branding iron he made. He branded wooden blocks for the young people.  He also created mini horseshoes using his skills to give token gifts to the participants.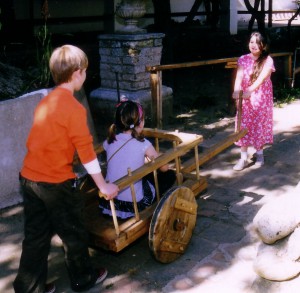 The children played with a child-size carreta that Mr. Duebbert build using the same type of materials that the early settlers used in the mission era.  He also built a life-size carreta that is on display in the mission gardens.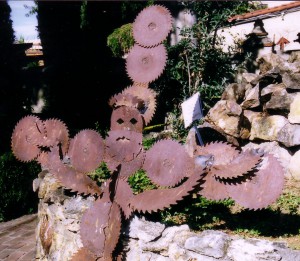 An unusual cross is located in the gardens created by Klaus Duebbert using old saw blades.  It is located next to the site of the cross that was knocked over by the hurricane force winds.
Klaus Duebbert is an artist and historian on a mission to save the artifacts from our past for future generations to enjoy.  He has done extensive work at the San Gabriel Mission.
Mr. Duebbert is also one of the founders of "Long Ear Donkey Rescue" in the Inland Empire.  They rescue donkeys, mules and horses.  For more information please call 951-849-9444 or e-mail: www.longear.net.  They are a nonprofit donkey rescue organization.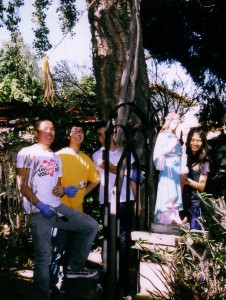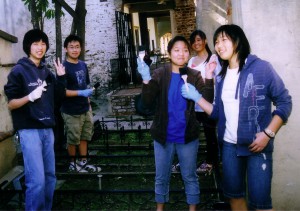 Students from San Gabriel High School Historical Society donated their time and talents to the upkeep of the mission.  They worked under the watchful eyes of Henry Osborne and Nicole Manalang, their teachers.
The students showed great pride in their work ethic that earns them credits as well as place in the volunteer history of the mission.
Mission History Day was started on June 4, 2005 so that, once a month on a Saturday, visitors can learn more about mission history: people, cultures, events, buildings, artwork, artifacts, plant life and more.  Some months a contest is scheduled.
Person's age 17 and younger must be with a parent or guardian age 18 or older.
Regular admission is free for age five and younger, $3 for ages six thru 17, $5 for ages 18 thru 61, and $4 for age 62 and older.
Free self-parking is available on a first-come basis in the church lot at the intersection of Mission Road and Junipero Serra Drive in San Gabriel or on nearby streets. The address is 427 S. Junipero Serra Dr., San Gabriel, CA 91776, and the telephone number is 626-457-3048.
San Gabriel Mission was founded on Sept. 8, 1771 as the fourth oldest of 21 missions in California.
Leave a Response