People Who Make A Difference Award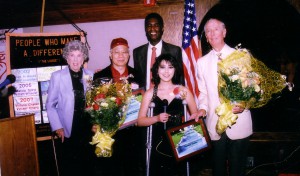 Louise Davis, former Monterey Park Mayor, Democratic Club President Delario Robinson and Master of Ceremonies Terry De Wolfe honored Pedro Chan and Jasmine Suda at the "People Who Make A Difference" dinner held on January 26 at the Monterey Hill Steakhouse in Monterey Park, CA.
Terry De Wolfe explained the award is presented annually to one Monterey Park man and woman who have previously received little public recognition while making major community service contributions by the United Democratic Club of Monterey Park.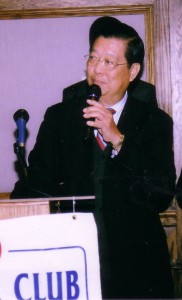 Mayor David Lau welcomes all to this special event. He congratulated the honorees Jasmine Suda and Pedro Chan as well as the United Democratic Club for honoring these people. It is a full house. He thanked all of the guests for supporting this event.
Alhambra School Boardmember Adele Andrade-Stadler introduced the special guests that included Louise Davis, Monterey Park Mayor David Lau, Councilmembers Anthony Wong and Mitch Ing, City Clerk Dave Barron, former mayor Francisco Alonso, Montebello School Boardmember Ed Chau, Alhambra School Boardmembers Pat MacIntosh and Bob Gin, Monterey Park Democratic Club President Peter Chan, Dr. Matthew Lin, Assemblymember Mike Eng, Garvey School Boardmember Henry Lo, Alhambra Councilmember Luis Ayala and Patricia Horton from Congressmember Adam Schiff's office.
Louise Davis said she left her heart in Monterey Park. She lived here for 43 years and served on the City Council and as City Treasurer. She stated it is important to make a difference.
The award is also named "The Louise" in honor of Mrs. Davis's contributions to the city.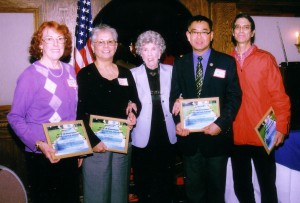 Louis Davis honored nominees Nancy Gilmore, Betty Morin, Arthur Fong and Richard Hollingsworth who attended the dinner. Nominees Gwen Kishida, Pat Naritomi and Dr. Ed Wong were not able to attend the event.
Dolores Sunda introduced her granddaughter Jasmine Sunda and gave a brief history on highlights in her granddaughter's life. She was born in Long Beach in 1991 and raised in Monterey Park. Jasmine is a junior at Cal State Los Angeles majoring in Forensic Science and Theater Arts/Drama. She vacationed in Oregon as a young child and loved her first snowfall. She also loved her grandfather reading to her. She enjoyed her childhood in Monterey Park and attended the local schools. She volunteers her time to several groups in the area. In 2010 the Chamber of Commerce chose Jasmine as their Second Princess in the Miss Monterey Park contest. She has a great sense of community.
Assemblymember Mike Eng who thanked Terry De Wolfe for sponsoring this award, "The Louise". People who work in the background should be honored.
He introduced his friend Pedro Chan. Pedro was born and raised in Macau. He emigrated to the United States to attend college in 1967. In 1976 he established Monterey Park's first acupuncture clinic. He is now retired and but remains active as a show business entrepreneur and professional magician. He is also a longtime sponsor of the Monterey Park Bruggemeyer Library and a member of the Chinese American Citizen Alliance. He is also a World War II buff. Pedro is a great friend with a great mind. He is the magic of Monterey Park.
Several of the guests praise Jasmine Sunda and Pedro Chan for their dedication to their family, friends and community.
Jasmine Sunda thanked everyone for this award. She gave a special thanks to her grandparents who raise her and her parents who fueled her ambitions.
Pedro Chan thanked all for coming. He is a doer and not a good speaker. He shared his award with his wife. He thanked the United Democratic Club.
140 guests enjoyed great conversations and delicious dinners. Several lucky people won wonderful door prizes during the event.
Leave a Response