Wind Damage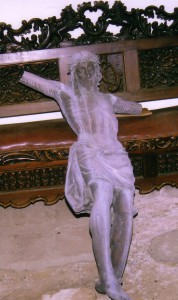 In November 2011 the San Gabriel Valley was the victim of a hurricane force windstorm that blew down many trees that damaged homes, cars and the historical cross in the San Gabriel Mission gardens.
The statue of Jesus Christ was torn from the cross and crashed into another statue. This historical figure was severely damaged and will be repaired in the next few months.
The cross will be rededicated on Good Friday, April 6, 2012.
For more information to volunteer or make donations to the San Gabriel Mission please call 626-457-3048 or visit their website: www.sangabrielmission.net
Leave a Response