MONTEREY PARK ROTARY INDUCTS CONGRESSWOMAN JUDY CHU AS PAUL HARRIS FELLOW
MONTEREY PARK ROTARY INDUCTS CONGRESSWOMAN JUDY CHU
AS PAUL HARRIS FELLOW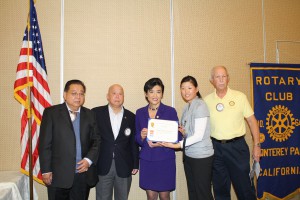 Judy Chu received the Paul Harris Fellow with from left Monterey Park Rotarian Ed Wong, Monterey Park Rotarian Gregory Tse, Congresswoman Judy Chu, Monterey Park Rotary President Allison Yu and Monterey Park Rotarian Ron Hedrick.
Thursday, January 12th Monterey Park Rotary honored Congresswoman Judy Chu with a Paul Harris Fellow for her work in the community and in the area. Paul Harris founded Rotary in 1905 in Chicago in order to foster friendship and service to his community. In the mid-1950s Rotary International founded the Paul Harris Fellows to encourage donations to the Rotary Foundation and to recognize people for service to their communities. Rotarian Rod Hedrick conducted Chu's induction ceremony with help from Rotarians Ed Wong and Gregory Tse. Wong said he has known Chu for more than 25 years from when she was elected to the Garvey School Board and then went on from there to be elected to the City Council of Monterey Park. Hedrick reminded everyone that the Rotary Foundation is currently raising funds to match a grant from the Bill and Melinda Gates Foundation to continue the efforts to vaccinate people around the world to eliminate polio. It is a great honor to be a Paul Harris Fellow.
Chu thanked Monterey Park Rotary for this great honor. In 2009 Chu became the first Chinese-American Woman elected to Congress. She told the group the items that she has been working on in Congress that is generating bipartisan support. She is on the House Subcommittee on contracting with the federal government. Being familiar with federal contracting has helped her to conduct workshops in the San Gabriel Valley with small business owners on how to secure federal contracting and procurement. Over the last decade, federal contracting has more than doubled in size reaching nearly $540 billion in 2010. Doing business with the government will help small businesses survive. The Los Angeles Transportation Board wanted to prevent the Gold Line from applying for federal funds to complete the project. She worked with Republican Congressman David Dreier and twelve other California Democrats and Republicans to allow the Gold Line to apply for federal funds. In 1882 Congress passed the Chinese Exclusion Act to stop the Chinese from immigrating to the U.S., from ever becoming naturalized citizens and ever having the right to vote.  This was the first time that a group of people was excluded from the promises of American freedom and democracy just because of their race. It was not until 1943 that the law was repealed. H. Res. 282 expresses regret for the passage of the Chinese Exclusion Laws and reaffirms Congress's commitment to protecting the civil rights of all Americans. Chu worked with the Senate to pass a similar resolution, S. Res. 201, unanimously on October 6, 2011. Republican Senator Orrin Hatch was a co-sponsor of the Senate Resolution. Chu pointed out that redistricting has changed the area that she will represent. In 2013 her District will no longer be the 32nd, but the 27th. She will keep Monterey Park and Rosemead, but the rest of her District will change and will include Alhambra, South Pasadena, Pasadena, Altadena, San Gabriel, Temple City, Arcadia, San Marino, Sierra Madre, Monrovia, Glendora, Claremont, Upland and the San Gabriel Mountains including Mt. Baldy. In the June primary she will be on the ballot for the new 27th Congressional District. She looks forward to continuing to work with the people in her new District.
For information on serving your local community through the Monterey Park Rotary, check http://montereyparkrotary.org/. Monterey Park Rotary usually meets every Thursday at
12:15 P.M. at Capital Seafood, 755 W. Garvey Avenue, Monterey Park. For more information on Rotary International and clubs in other communities see http://www.rotary.org/EN/ABOUTUS/Pages/ridefault.aspx .
Leave a Response