HOLIDAY HIGHLIGHTS
BY Mona Raskin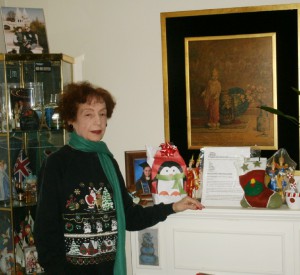 The "Holiday" season officially began with "Thanksgiving". This year we spent this event with son Barry, his wife Linda, family and friends at their home in
Carlsbad, Ca.
It was a lovely gathering, which consisted of a variety of tasty side dishes! Unfortunately, yours truly, had a bit too much because I suddenly I experienced a digestive upset! This
was supposed to be a holiday highlight, but instead, it felt like the opposite! Barry, handed me a glass of 7up and finally, I was back to normal! The following morning we were back again on the road. This time to visit old friends, Ralph and Holly Fox that resided in nearby, La Jolla! We enjoyed a buffet lunch together! It was truly great being able to visit our family and longtime friends once more! We wish to extend our thanks and appreciation for all their hospitality!
At this point, my holiday highlight began to shine again! It was "Black" Friday and we thought we could make a few stops on our way home! Either we were too late or there
weren't any true sales or their wares were sold out!! I began to feel it was another lowlight coming on! Well, in spite of the above disappoint, we just felt we may be able to catch up on
more special sales, eventually!
On December, 5th, being a rather chilly and windy morning, I thought I would turn up the heat! Unfortunately, it refused to budge! That Sunday morning, we contacted
a Heating furnace company! A service man arrived that evening! He checked our heating unit and told us that they no longer can repair this particular model and that we need to purchase a new one! Two days later, replaced our old forced air unit with a new one! Since this purchase made a dent in our "holiday" gift fund, it was somewhat a blow and so the "
holiday lowlight" began to flicker! However, it could also be a holiday present to us and so it really was a holiday highlight", after all!
A holiday message to our readers!
You can still have "holiday highlights"
Just look for the bright light and it can be there!
Hope your holidays are happy ones!
Leave a Response