WHERE ARE THE BODIES BURIED?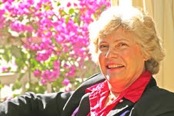 The theme for the Alhambra Historical Society's meeting on Wednesday, November 16 will be "Graveyards". The featured speaker is Dr. Gay Toltl Kinman, an author and past president of the society. She will give an interactive talk on "How to Write a (Historical) Mystery."
"Interactive means the audience will be naming the characters and coming up with the (graveyard) plot," said Kinman.
The meeting will begin at 7 p.m. for a social half hour with refreshments before the program. The meeting will be held at the Masonic Center, 9 West Woodward, corner of First Street, in Alhambra.
The 'Show and Tell' tables will be displaying historical items owned by members, so join the group for coffee and cookies and a peek into the past.
Everyone is welcome. Come and learn how to write a mystery and bury bodies!
The Alhambra Historical Society Museum is located at 1550 West Alhambra Road at Bushnell in Alhambra. The museum is open every Thursday from 2 to 4 p.m., and on the second and fourth Sunday from 2 to 4 p.m. For more information call 626 300 8845.
Leave a Response