Pasadena City College Cross Country News
Women's Cross Country Highest SoCal Finish in 8 Years
The Pasadena City College women's cross country team continued its impressive team season by taking 13th place at the Southern California Championships Friday at Ontario's Guasti Regional Park. It is the highest team SoCal finish by the Lancers since taking 12th in the 2003 meet, and the performance allowed the Lancers to qualify as a team for the CCCAA State Championships.
PCC sophomore Elizabeth Lyons, an All-South Coast Conference top 10 runner, once again ran the Lancers best time at 19:30.1 to place 47th out of 198 racers. Lyons' mark was remarkable considering how much faster she ran in comparison to her race at the SoCal Preview Meet on the same 5-kilometer course last month. Lyons was 91 seconds quicker and ran faster than three other Lancers who placed ahead of her at the Preview meet.
Her rise to the top of the Lancers race chart is part of the reason why PCC is having its best women's harrier team season since the early 2000s. Lyons was one of three Lancers to break the 20-minute mark (none of the team reached that at the Preview meet) as freshman Diane Lombardi raced 59th (19:48.5) and sophomore Rebecca Nunez (19:58.4) was 69th. Next for PCC was freshman Arielle Barragan in 98th (20:33.9), followed by freshman Zahina Rios in 105th (20:39). Ironically, Rios was the team's top runner at the Preview Meet (36th overall) and ran 32 seconds slower.
"If we can get Rios out of her slump, we have a good shot at a strong team finish at the state meet," said PCC Head Coach Armand Crespo. "Each of our top four runners made big leaps in their times today. Elizabeth continues to set the pace. She's come a long way from her times as a freshman."
Non-scoring runners for PCC were sophomore Cassandra Lew (129th, 21:08.4) and freshman Tessa Chandler (130th, 21:09.5).
The team's success this year follows the greatest individual season by a Lancer women's runner when Tracee van der Wyk placed PCC all-time bests with second place finishes at the SCC, SoCal and CCCAA championship meets.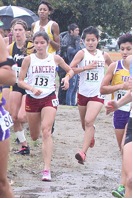 The women conclude the 2011 season on Saturday, Nov. 19 when they participate in the CCCAA State Championships at Fresno's Woodward Park course.
[Photo--Diane Lombardi (133) and Zahina Rios (136) in action for the Lancers at the SoCal Championships held in Ontario Friday, image by Richard Quinton.]
Release date Nov. 4
Men's Cross Country Season Comes To Sloppy End
After being given a reprieve to qualify for the Southern California Championships despite a last-place finish at the South Coast Conference Championships, PCC took 25th place out of 28 teams at the SoCal meet held Friday at Ontario's Guasti Regional Park. The season officially ended for the Lancers this race.
The Lancers also will not have an individual runner take part at the CCCAA State Championships for the first time since 2007. Freshman Brian Sacripanti, who was the team's top runner in five of their six meets, placed 101st overall as the fastest Lancer at 22:04. Sacripanti missed by four spots of qualifying for the state meet.
Racing in muddy, rainy conditions on the 4-mile course, sophomore Chris Le followed Sacripanti in 116th at 22:22.9. The rest of the Lancers in order were: Angus Leung, 129th, 22.48.5; Hamilton Ran, 166th, 23:53, Taylor Toyotome, 177th, 24:06, Robert Carbajal, 183rd, and Anthony Huerta, 190th.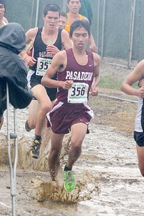 [Photo--PCC's Chris Le runs through the mud in the SoCal Championships held at the Guasti-Regional Park course in Ontario, image by Richard Quinton.]
Release date Nov. 4
SCC Last for Men's Cross Country, but Qualifies for SoCal Meet
How strong is the South Coast Conference in men's cross country this year? Well, strong enough that Pasadena City College, the eighth and last place team at Saturday's SCC Championships received the news the season will continue at the upcoming Southern California Championships.
The Lancers scored 212 points and had no runners in the top 25 during the 4-mile conference race at Cerritos Regional Park, won by LA Trade Tech. However, the strength of the SCC was such that the team qualified for an at-large berth for Friday's SoCal meet to be run at Cucamonga-Guasti Regional Park in Ontario.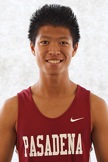 Another exciting development occurred for the Lancers as a new top runner emerged after Brian Sacripanti had run the team's best marks in each of the four previous invitational meets. Angus Leung, a freshman from Temple City High (pictured), ran in a PCC-best 31st place at 23:41. Sacripanti (Maranatha High, freshman) took a surprisingly low 43rd (24:06).
The rest of the Lancers finished as follows: sophomore Chris Le, 66th, 25:04; freshman Taylor Toyotome, 81st, 26:20; frosh Hamilton Ran, 83rd, 26:31; rookie Anthony Huerta, 91st, 28:01, and sophomore Robert Carbajal, 92nd, 28:13.
Despite the disappointment of finishing last at conference, the Lancers will get another shot to redeem themselves at the SoCal meet. PCC has now qualified for the regional meet in each of the last three seasons (2009-2011).
Complete SCC Meet Results at the link below:
http://www.directathletics.com/results/xc/3529.html
Release date Oct. 30
Women's Cross Country Races 3Rd, Lyons 9Th at SCC Championships
The Pasadena City College women's cross country team raced to its highest team finish in a decade–third place–at the 2011 South Coast Conference Championships Saturday morning at Cerritos Regional Park.
The Lancers, rated No. 11 in Southern California, scored 87 team points with five runners making it into the top 25 in the conference 5-kilometer race. Sophomore Elizabeth Lyons made it to the All-SCC Second Team by racing a PCC best ninth place individually at 19 minutes, 43 seconds.
The closeness of the race was exemplified in the Nos. 2-to-10 places as only 11 seconds separated that entire elite group. El Camino College-Compton Center's Robinea McClinton was conference individual champion well ahead of the group with a winning time of 19:13. Mt. San Antonio edged LA Trade Tech, 37-41, for the SCC team title.
After Lyons, PCC's scoring finishers were as follows: freshman Diane Lombardi, 15th place, 20:03; sophomore Rebecca Nunez, 17th, 20:20; freshman Zahina Rios, 22nd, 20:56; and sophomore Cassandra Lew, 24th, 21:02.
With one of the deepest teams in Lancers' history under head coach Armand Crespo, other Lancers who placed in the eight-team, 74-runner event were frosh Arielle Barragan, 29th, place, 21:18; rookie Tessa Chandler, 34th, 21:45; freshman Michelle Escamilla, 44th, 22:47; sophomore Natasha Nicholson, 54th, 23:52; frosh Andrea Mejia, 66th, 24:54; and first-year Melissa Hadloc, 69th, 25:55.
The women advance as a team to the Southern California Championships this Friday, Nov. 4 at Cucamonga-Guasti Regional Park in Ontario. In the past nine seasons, the Lancers have only qualified as a team for SoCal in 2003, 2009 and this year. The 2001 team, the last squad to finish third at the college prior to this 2011 unit, finished 11th that year at SoCal.
Last season, Crespo helped the guidance of Tracee van der Wyk to setting new school records for highest individual placings (all second places) at the SCC, SoCal and CCCAA state meets. Crespo was an assistant coach on the 1995 and 1996 teams that finished third and fourth in the state, respectively.
Complete SCC Meet Results at the link below:
http://www.directathletics.com/results/xc/3529.html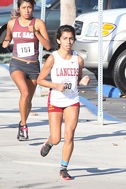 [Photo--Lancer Elizabeth Lyons runs during the South Coast Conference Championships Saturday at Cerritos Regional Park, image by Richard Quinton.]
Release date Oct. 30
Leave a Response