PINK AND PURPLE PROCLAMATION TO SOROPTIMIST
Alhambra City Council Mayor Luis Ayala recently presented a Proclamation to the Soroptimist Club of Alhambra-San Gabriel-San Marino for Pink and Purple Months for their work in Breast Cancer Awareness (pink), observed in October and Domestic Violence Prevention (purple) observed in November.
Receiving the proclamation of behalf of the club were President Sophia Tsoi and Past Presidents Dr. Gay Toltl Kinman and Dr. Annie Chin Siu.
In her remarks Tsoi said "Tonight the City of Alhambra again becomes a part of history by joining other cities within the State of California on this Soroptimist Region-wide "Color Me Pink and Purple" Project. Soroptimists are actively bringing about awareness of these two serious issues to as many communities as we can."
Soroptimist is an international professional and businesswomen's organization helping women and girls achieve skills, health and education to attain financial empowerment and independence.
For further information go to http://www.soroptimist.org
To help in the community on these projects, contact Soroptimist International of Alhambra / San Gabriel / San Marino, Post Office Box 343, Alhambra CA 91802 or attend a luncheon meeting on Tuesday 12:15 at Almansor Court, 700 South Almansor, Alhambra.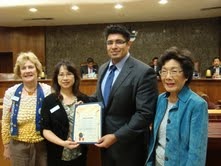 Soroptimist International of Alhambra San Marino San Gabriel received a proclamation from the Alhambra City Council for Breast Cancer Awareness and Prevention of Domestic Violence projects. Left is Dr. Gay Toltl Kinman, past president; President Sophia Tsoi; Mayor Luis Ayala; and Dr. Annie Chin Siu, past president.
Leave a Response