A SULTRY SOMBER SEPTEMBER
By Mona Raskin
A rather mild summer suddenly revolved into a hot sultry and somber September this year!! Due to the uncomfortable high temperatures many folks flocked to the coast for relief

I, thought, too that the above idea was a refreshing answer, as well! Before long, we found ourselves in at a nearby beach (Long Beach)! Since, it was close to lunchtime, we made a stop at a popular restaurant, Ruby's Diner, located on Pacific Coast Highway in the city of Long Beach! Ruby's Diner is a reincarnation of the 40's. World War two memorabilia, photos and music (the swinging years) and more such as the rest of the décor, which includes a replica of the Queen Mary Ship incased in Glass! Touring the place was surly a step back in time!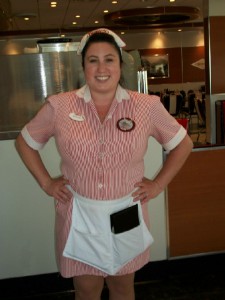 Dylana our lovely waitress.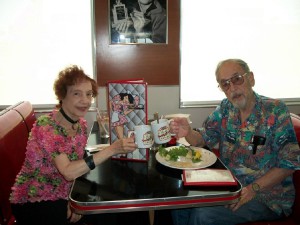 Mona and Sol enjoyed the wonderful hospitality
Before we left Ruby's Diner, we stopped for their delightful and tasty lunch which consisted of a Turkey (white meat only sandwich, lettuce, huge rolls, cranberry sauce and the best sweet potato fries!! I might add that the turkey is made and prepared on the premises as well!
Although, it brought back memories of past wars, WW11, Korea, Vietnam and the present ongoing war in the Middle East, it actually braced us for the 10th anniversary of the attack on our mainland on 9/11/2001! Perhaps, it was so close and so painful. That, somehow, we find it far too difficult to forgive or ever forget! In the meantime, we can only hope and wish for a peaceful and strong solution! When we were involved in the First World War, we thought that would be the war that would end all wars! However, we should not give up but continue to try our best to find that silver lining that somehow continues to elude us!
Our prayer's go out to the victims who suffered from the terrorist attacks on our mainland!
Leave a Response