Lifetime Achievement Awards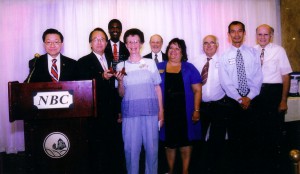 Ruth Willner received her Lifetime Achievement Award from members of the Monterey Park Democratic Club and The United Democratic Club of Monterey Park.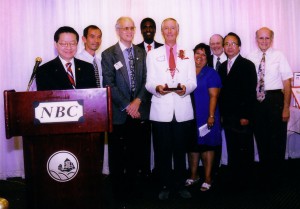 Terry De Wolfe received his Lifetime Achievement Award from members of the Monterey Park Democratic Club and The United Democratic Club of Monterey Park.
Peter Chan welcomed all to this special event and introduced Assemblymember Mike Eng as the Master of Ceremonies at the Lifetime Achievement Awards Dinner honoring Ruth Willner and Terry De Wolfe on August 26 at the NBC Restaurant for their dedication to the residents of their community.
Assemblymember Eng welcomed all to the Lifetime Achievement Awards dinner that was sponsored by both Democratic Clubs. He wished Ruth Willner and Terry De Wolfe an unlimited life.
Peter Chan and Delario Robinson welcome everyone for coming and thanked the Committee Members: Francisco Alonso, Adele Andrade-Stadler, Craig Athon, Dave Barron, Peter Chan, Ralph Mitchel, Peter Phung, Delario Robinson and Jeff Schwartz for making this a very special evening.  They called it a labor of love for Ruth and Terry. This brings the community together.
Mr. Eng advised the 150 guests that all of the leaders in this room have a lot of progressive ides.
Mrs. Andrade-Stadler welcomed all and introduced several elected officials that included Assemblymember Mike Eng, Patricia Horton from Congressmember Adam Schiff's office, Pedro Salcido from State Senator Ed Hernandez's office, Monterey Park Councilmembers David Lau, Anthony Wong and Mitch Ing, City Clerk Dave Barron, Alhambra Councilmember Luis Ayala, Alhambra School Boardmembers Bob Gin and Adele Andrade-Stadler, Garvey School Boardmembers Bob Bruesch and Henry Lo, Montebello School Boardmember Edwin Chau, Congressmembers Judy Chu and Javier Becerra and former Monterey Park Councilmembers Francisco Alonso and Betty Couch.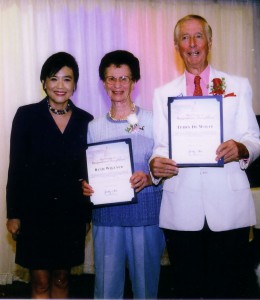 Congressmember Judy Chu said in the mist of the craziness in Washington, D.C. our city of Monterey Park makes it what it is.  She called Terry De Wolfe and Ruth Willner incredible friends. They have advocated for the higher issues. She called Terry, the Godfather of Monterey Park and Ruth, the Godmother of Monterey Park.
Ms. Chu praised Mr. De Wolfe for being an environmental activist who is involved in the city. He worked on the "NO to County Fire Committee" and helped support the bond for the library. He believes in his causes that benefit all of Monterey Park.
Ms. Chu stated the Mrs. Willner inspired her to participate in the city. Mrs. Willner has been an activist for the last 50 years. She served on the Library Board and worked against the gambling casino and the billboards. Mrs. Willner speaks her mind and is never intimidated. She does it straight from her heart.
Mr. Eng honored Ruth Willner and her late husband, Irv Willner and Terry De Wolfe and his wife. Tilda De Wolfe. He said that he could not honor one of them without honoring their spouse. They work as a team.
Mr. Chan introduced Ruth Willner. He called her his good friend and mentor.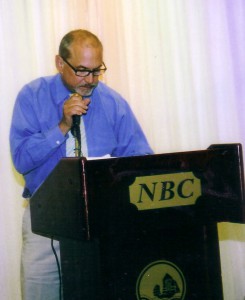 Paul Willner, her son spoke lovingly about his mother as a devoted wife and mother to himself and his sister, Julia. She worked behind the scenes and belonged to several political groups. He said during their family dinners their parents had many political discussions.  In their early years she read to them at bedtime. She was a quite force in the family but was loud in the public on special issues. She was an advocate for the civil rights of all. She is a public activist in the community. His father, Irv, would be proud of her. He called her a blessing to her family, her city and her country.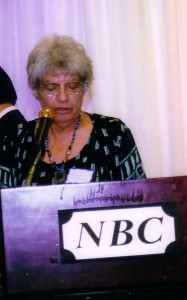 Marcia Spears, her longtime friend honored her. She said that Ruth speaks up at Council Meetings. She expressed her love for her 40-year friend and thanked her.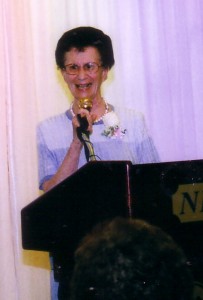 Mrs. Willner said she is happy and humble to accept this award. She and Irv joined the club in 1967 and worked togerther. She thanked the clubs for this special event. She thanked Mike Eng and Judy Chu. She joked that she packed the joint with many of her family members, friends and supporters as she introduced them to the other guests. Hilda Solis, the Secretary of Labor, sent her best wishes. She thanked all of the Councilmembers past and present. She advised the Councilmembers to say NO to County fire and not to change Oral Communications.   She thanked many local organizations for their support. She thanked the Library Board and staff. The library is very important to her. She will support it. She stated that everyone has made the achievement award possible and thanked all for their support.
Mr. Robinson introduced Terry De Wolfe. He has fought and battled for Monterey Park.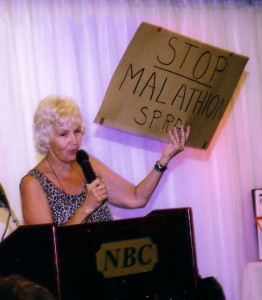 Tilda De Wolfe presented several of Terry's picket signs to the audience to read. She thanked Ruth for all that she has done for us. She spoke about Terry's many accomplishments. She stated that when they first met Terry was interested in her as a person. He helps the neighbors in need. She called Terry her best friend and one of the brightest people she knows. He is a great husband, loving father and friend.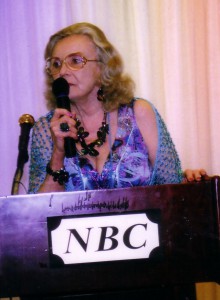 Kathy Wills said that Terry inspires her, as he never says no. They have worked together on many projects. She said it was her pleasure to know him and his wife, Tilda. She thanked him for everything.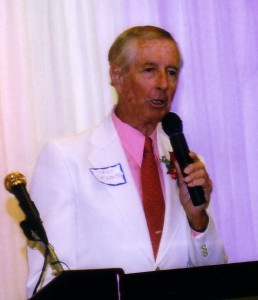 Mr. De Wolfe spoke fondly about his wife, Tilda. He called her is handyman since she can fix about everything. He is honored to be here with Ruth. He called her the main stay in our community. He joked about many longevity tips and recognized many longtime friends from several associations. He thanked Judy Chu and Mike Eng. He gave special thanks to his wife, Tilda. He thanked everyone for this award.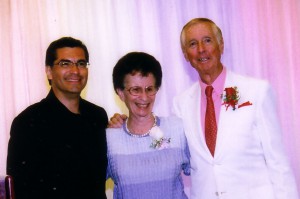 Congressmember Javier Becerra, a member of the Special Committee of 12, said that he lived in Monterey Park in 1990 when he ran for State Assembly in Monterey Park and Alhambra with the support of a grassroots committee. He was here to honor Ruth and Terry as they supported him. This is a special occasion. We do things to keep the beacon of hope alive. He thanked Ruth and Terry for their support.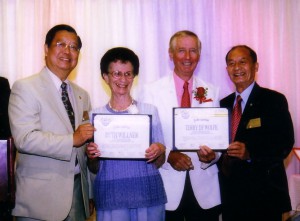 Monterey Park Councilmembers David Lau and Anthony Wong honored Ruth Willner and Terry De Wolfe.
Mr. Lau praised them for their passion for the city. He thanked them for their support.  They are our role models. He thanked them and wished them good health and good luck. He asked God to bless them.
Mr. Wong called them a true lady and a true gentleman.  They are role models for the Council. They watch the Council like a hawk. They speak up to the Council and remind them if they do something wrong as they all serve the people of Monterey Park.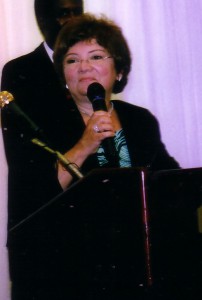 Former Assemblymember Diane Martinez praised Ruth for all of her support of Monterey Park. Ruth and Irv mean so much to me. They inspired her.
Ruth Willner and Terry De Wolfe were praised by many of the guests during the ceremony. They also received numerous awards from local politicians and civic groups.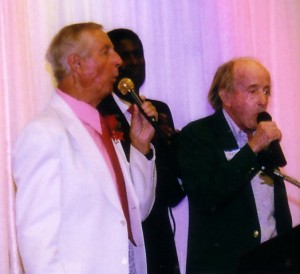 Terry De Wolfe and Bert Bollinger proved a musical closing to the event with a lively rendition of "Bicycle Built For Two" and "Shantytown".
Mr. Chan thanked everyone for coming to this special event.
1 Comment
Leave a Response