Convergint Technologies Volunteers A Work Day at San Gabriel Mission
San Gabriel Mission recently accepted an invitation for 40 adults to come to its historical site and volunteer a full day of work to help repair and maintain the 239-year old site.
"This was a major project as the mission had to prepare for many different projects that needed to be completed," said Al Sanchez, business manager at the mission. "We had to plan, buy many supplies and have everything organized to keep 40 people busy for a day. That's no easy task. Everything was very successful, and everyone did everything with a smile."
Convergint Technologies, which has numerous offices throughout the USA and Canada, dedicates one day a year where the entire company takes a day off from work, selects a local site in advance, plans and then goes and dedicates a full day of work to help make a difference in its local communities.
Convergint Technologies volunteers from its Orange, Calif. location made a huge difference at San Gabriel Mission, reported Sanchez. "They repaired, cleaned, sanded and painted, trimmed trees, weeded, planted flowers and moved some plants, re-roofed over the canon, added a shade cover, and more.
One transplanted plant, a grapevine that started growing in an area where it needed to moved from, was trimmed shorter when moved because Convergint Technologies employee Steve Ballard had the knowledge and said it would have a better opportunity of survival. The plant started withering for a few days after the transplanting, yet now is growing as if it hadn't been moved, emphasized Sanchez.
Sanchez said an old adobe wall was repaired using adobe bricks that youth and adults made during mission History Days the last few months. "We have events like History Days so visitors can experience the mission history," stated Sanchez. "And, their work is making a contribution to help preserve the historic mission complex."
Two other projects were interesting, said Sanchez, because volunteers worked on two important areas at the mission that they had to do right the first time. One was cleaning headstones in the oldest cemetery in Los Angeles County, and the other was repairing 75-year-old models of missions in California.
"San Gabriel Mission sincerely thanks all the Convergint Technologies volunteers for their efforts," said Sanchez. "We also sincerely thank sponsors that made donations to help make this day happen successfully. They are Athens Services, Del Mar Café in San Gabriel, Dunn Edwards Paint in Rosemead, Luna's Mexican Restaurant in San Gabriel, Pulciano's Deli in San Gabriel, Royal Donuts in Rosemead, San Gabriel Nursery in San Gabriel, Super A Foods in Temple City, and Tri-Star Vending in Alhambra."
San Gabriel Mission was founded on Sept. 8, 1771 as the fourth oldest of 21 missions in California.  The Roman Catholic parish has more than 70 active groups that speak either English, Spanish, Vietnamese, Tagalog (Filipino) or Chinese.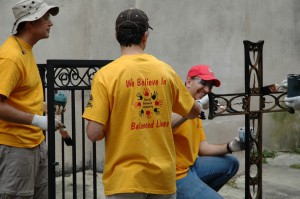 Painters…(from left) Convergint Technologies Vice President Rob Saunders, and Account Executives Eric Loiacano and Greg Hardee helped paint a lot of ironwork in the San Gabriel Mission gardens.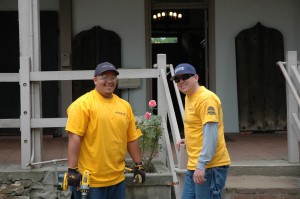 Repairmen…Convergint Technologies Lead Installer Jesse Ramirez (left) and Convergint Technologies Service Department Representative Scott Havins completed repair projects during the company's volunteer workday at San Gabriel Mission.
Leave a Response