Tree Memorial Ceremony
Verne Heitman was honored on June 14 with a tree memorial ceremony held at Garvey Ranch Park.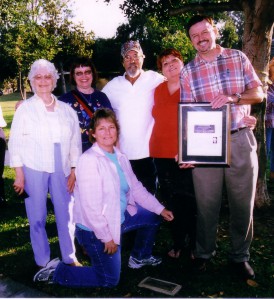 Susie Heitman Davies, her husband Bucky Davies, her brother Doug Heitman, his wife Nikki Heitman, family friends Becky Moore and Janet Syberg standing in front of the tree dedicated to their father and friend. His large shade tree is just as you enter the picnic pavilion area.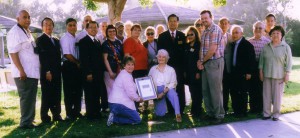 Councilmembers David Lau, Mitch Ing and Anthony Wong and City Clerk Dave Barron joined with Mr. Heitman's family and many long time friends to celebrate the life of a special man.
Dan Costly from the Parks and Recreation Department welcomed all to this special event. He thanked the members of the Tree Memorial Committee Ed Brogan, Vickie Le, Jim Iwaki and Hans Liang.
Terry de Wolf and Tilda de Wolf longtime friends of Verne Hetman and fellow members of the United Democratic Club sponsored the ceremony.
Verne Heitman was a 48-year resident of Monterey Park until his death in the spring of 2008. He and his wife, Norma raised three children in their home that overlooked Barnes Park.
Mr. Heitman was a chief architect and engineer with Los Angeles County who brought his talent and expertise to benefit the city as an eight-year member of the Planning Commission. He also served on the Design Review Board and participated in the funding and building of the 2006 library expansion.  He also serviced on several city planning and urban design studies and was deeply involved in other community service organizations.
Mr. Heitman was a Council watcher who gave several Councilmembers his advise and suggestions during the public forums.  He also welcomed the suggestions of and ideas of others. He wanted the very best for his hometown.
Verne Heitman, Yukio Kawaratani, Thomas Ono and Joe Rubin were a famous quartet serving on the Planning Commission in 1987.
Mr. Kawaratani spoke about the club deciding to honor residents with the "People Who Make A Difference Award". Mr. Heitman agreed with the idea as long as none of the club members could be nominated for the award. He called Verne Heitman an honorable man who would be embarrass by the fuss being made over him. Mr. Heitman deserves this award for his dedication to the community. A moment of silence was requested in memory of Verne Heitman who is smiling down on us. We all miss you Verne.
Mayor Pro Tem Lau said it is his honor to share in this ceremony. Verne Heitman was a humble volunteer in the city. He served the city well in his participation of the library expansion and the Taskforce on the trash contract. He volunteered many years to the city. He made a big difference to the community. We miss him. He will always be in our hearts and minds.
Mr. Ing spoke about honoring Verne Hetman with a tree. The tree roots represent his family. The tree blossoms and grows like his service to the city. He left a legacy to the young people of Monterey Park to volunteer their services to their city. He hopes the family will continue to visit. Verne Heitman had a heart for the city.
Mr. Wong remembered the phone call from Mr. de Wolf requesting a tree memorial for Verne Heitman. It was his honor to participate in this memorial. Verne Heitman was dedicated to the welfare of the people of Monterey Park. He worked with everyone for a better future for Monterey Park. He is missed by all of the residents of Monterey Park. He is always in or hearts and minds.
Mr. Barron said he is honored to be here. He served on the Planning Commission with Verne Heitman and worked with him in the United Democratic Club. As a city clerk he misses his guidance of the city council. Verne Heitman is a friend who is missed. They worked together on several projects.
Mr. Rubin said he worked with Verne Heitman on the Planning Commission. He would rag on the developers but Mr. Heitman was a supreme gentleman. He was a great speaker. The city benefited from him.
Mr. Ono stated the Verne Heitman was knowledgeable but humble at the same time. He led people to reality. It was always what is best for the city.  He was clear that their jobs were a public service. He had a deep commitment to the city.
Mrs. Davies thanked all for this family honor.  She introduced her family to the crowd her husband Bucky Davies, her brother Doug Heitman, his wife Nikki Heitman, family friends Becky Moore and Janet Syberg. She called Ms. Syberg was wonderful woman that her father met at church after his wife died. They had two great years together.
She stated that her father was still thinking about Monterey Park when he was in the hospital.
Ms. Moore, an honorary sister, stated that Verne Heitman served his city and his church. He bent over backwards to help anyone who needed him. He is a part of us in our hearts. He is right here.
Mr. Heitman thanked everyone on behalf of the Heitman family. The thanked the city staff, committee and all of his friends. He said that his father's actions spoke louder than words.
Mr. de Wolf remembered that Verne Heitman would laugh when he was angry.
Mrs. Wills stated that Verne Heitman was like her daddy. He was intelligent. He had something to say about everything.
Mrs. Rubin spoke about Verne Heitman's advise to get a hand railing installed on their front steps. They finally took his advice and had a railing installed.
Mrs. de Wolf said Verne Heitman always helped out a friend.
Mrs. Su said she heard so much about Verne Heitman. She agreed that he was a great, humble and noble gentleman. She will always remember his smile.
The wonderful shade tree will always remind the residents of Verne Heitman, a man who did his very best to protect them and improve their quality of life in Monterey Park.
Leave a Response