Laura Scudder Scholarships
Christie Mirasol and Rebecca Mejia smiled proudly after they each receiving a $2,500 scholarship from the Laura Scudder Foundation at the Garvey Ranch Park Club House. John Scudder, the grandson of Laura Scudder, presented the scholarships during a luncheon on June 12.
Jim Iwaki welcomed everyone to this very special event. The guests of honor and their families had a chance to see the video of Laura Scudder's life. John Scudder, the family historian, is the producer and director of the video that is available for public viewing in the Monterey Park Historical Society. The film was created with love for his grandmother and his mother in 1989. He thanked the scholarship committee.
John Scudder awards scholarships to students in the field of business, culinary arts or nursing with the assistance of the Monterey Park Historical Society. The student must attend an accredited community college or culinary schools in the San Gabriel Valley.
Christie Mirasol is a nursing student at Mr. San Antonio College. She is scheduled to graduate in June 2012. She is following in her mother's footsteps as a nurse. She thanked all for her scholarship. She was a high school dropout who made a 180-degree turn. She has one more year to go to receive her nursing degree. She thanked her husband and her mother for their support.
Rebecca Mejia graduated from Citrus College with a degree in Business in June 2011 and will be attending Cal Poly to study for a degree in Hospitality Management.  She is very happy with this scholarship. An Honor Society member she is looking forward to going to Cal Poly. She thanked her mother and sister and the scholarship committee. She is honored and proud to follow Laura Scudder.
John Scudder proudly displayed a portrait of his grandmother Laura Scudder and a waxed potato chip bag. Mrs. Scudder was a very accomplished woman who passed the bar in 1918 while pregnant with her third child. She did not attend college. She created the waxed bags in 1926 to preserve the chips. This improved the health and safety of potato chip consumers. The chips were packed in large tin cans and the shopkeepers would pull them out by hand.  The chips were considered a summer dish until after World War II so Laura Scudder also made peanut butter and mayonnaise.  Peanut butter was considered a nutritious staple for seniors. Mrs. Scudder was also a nurse.
Laura Scudder was a very successful businesswoman who had her factory in Monterey Park. She employed many local men as salesmen and woman who created the waxed bags. She helped her salesmen to get racks to hold her potato chips put into Mom and Pop stores. She paid them to support their families.
John Scudder was able to interview several of her employees for his film. The men who worked for her in the 1920s and 1930s did not go to college. She was very fair with her employees. She did a good job.  She always worked hard. She had the best of all.
John Scudder has three brothers Mark, Ken and Greg. They are very pleased to extend these scholarships. Hats off to the people who came before us. He thanked the scholarship winners and the Historical Society.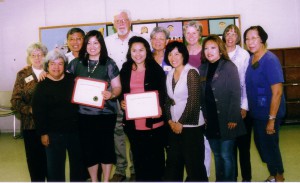 John Scudder, Christie Mirasol and Rebecca Mejia were joined by members of the Historical Society in honor of this special occasion.
The location of her factory is marked with a plaque at the northeast corner of Atlantic and Garvey at the old gas station site near the old Thrifty store.
The Monterey Park Historical Society is opened on Saturdays and Sundays from 2 to 4 PM. The admission is free.  For additional information please call 626-307-1267.
Leave a Response