POLICE WARN MONTEREY PARK CITIZENS OF RECENT SCAM
On Wednesday, June 8, 2011 the Monterey Park Police Department received a call from a local resident reporting that he was the victim of a financial scam; suffering a loss of $5,000.00. Though this is the only known recent incident of the sort the Monterey Park Police Department wants to inform the public of the incident in hopes of preventing further crimes.
The victim stated that he had been shopping at the Shun Fat Supermarket on N. Atlantic Blvd, Monterey Park on 06-08-11 at approximately 1:30 pm when he was approached by a male in the parking lot. The male stated that he was looking for the nearest church so that he could deliver over $90,000.00 in cash as a donation while showing the victim a bag allegedly containing that amount of cash.
The victim agreed to transport the male to a church on S. Atlantic Blvd wherein the second suspect met with them under the auspice that he was uninvolved and just walking by the victim's car. The primary suspect suggested that the victim and the secondary suspect give him "good faith" money in exchange for the large amount of cash. The primary suspect said that the victim and secondary suspect can then keep $20,000.00 for themselves and distribute the balance of the cash to local churches. The victim agreed by withdrawing money from his bank and handing it over to the primary suspect. In the end, the victim was convinced to give up his personal money and jewelry that he was wearing only to receive nothing in the end.
Citizens are reminded that if it sounds too good to be true, then most likely it is not true. As opportunists, suspects seek out unsuspecting victims that are caring and willing to help others. Making a few extra dollars on the side is just icing on the cake. The suspects' appearance and demeanor in this case did not raise any red flags to the unsuspecting victim; thus, making it easy to gain the victim's cooperation in the scam. The primary suspect was described as a male, black, between 50 and 55 years old, 6" tall, 200 lbs, black hair and brown eyes. The secondary suspect was described as a male, Hispanic, between 45 to 50 years old, 5' 06" and 180 lbs. Both suspects were dressed casually in jeans. If you have information about this crime please call the Monterey Park Detective Bureau at (626) 307-1242.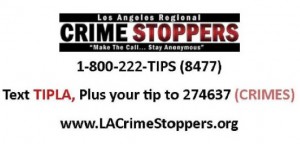 Leave a Response