Mission History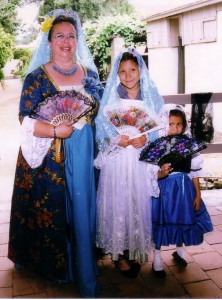 Kathleen Rabago and two young girls dressed in finery from 1776 Spain. The ladies and girls dressed up for church and special occasions.  They held the their fans in the formal fashion of the day at the San Gabriel Mission on May 14.
Participants included members of the Monrovia Historical Museum; Montebello's Sanchez Adobe Museum; The Old Spanish Trail Association; Alhambra Historical Society; Dinsmoor Heritage House Cultural Museum; Graber Olive House in Ontario; Homestead Museum; Dominguez Rancho Adobe Museum and members of the Gabrieleno/Tongva tribe of Los Angeles.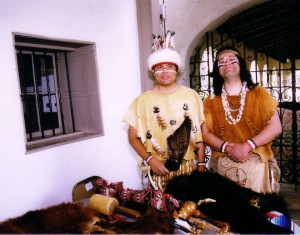 Andrew "Guiding Young Cloud" Morales and Mathew "Sky Eagle Sings With His Heart" Lovio displayed native musical instruments and skins from the bear, coyote, deer, otto, rabbit and a bow and arrows.  They explained to the audience the various uses of the skins in their sacred ceremonies.  The also performed native songs and dances to the delight of the visitors. For more information on the Tongva culture for school presentation please call the Tribal Office at 626-286-1632 or
e-mail:cloudnet009@yahoo.com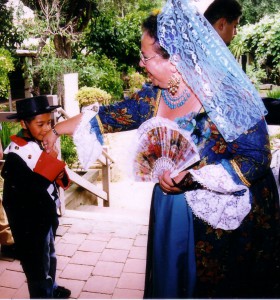 A young soldier kissed the hand of a Spanish noble woman.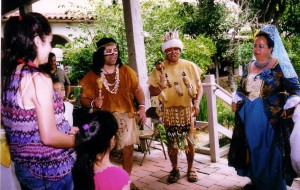 The Tongva and Spanish cultures mixed as the children participated in a native dance.
You can follow the history of early California by visiting all of the museums and missions in the state. Please call each museum or mission for information and hours.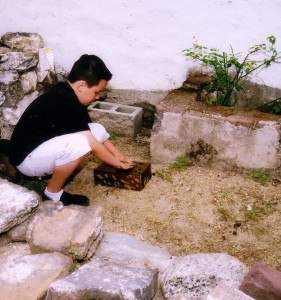 Jonathan Armijo tried his hand a making an adobe brink that will be used in repairing one of the walls in the gardens.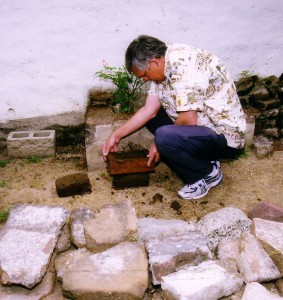 Chuck Lyons has become an expert brick maker at the San Gabriel Mission. He manages the gift shop and the mission events.
Leave a Response