ICEBERG AHEAD REVIEW
ICEBERG AHEAD REVIEW
By Gay Toltl Kinman
Cafe Al Fresco is where it all starts. A small wrought iron table, a lace cloth overlapping the top, with a bottle of white wine, chilled of course, and four glasses. It's outside in New York in April, 1912, and the weather is perfect. Ah, life is good.
For those of us on dry land.
Nearby a sandwich board proclaims
TITANIC
DISASTER
GREAT LOSS
OF LIFE
Four elegantly-dressed people enter and sit on the chairs. David Rickman (Matt Nelson), a theater producer; Lydia Felby (Lindsay Warm), a famous actress; Conception (Maia Villa), a Spanish maid; Miss Emily Montrose (Bryana Pickford), now a very rich young woman as her parents went down with the Titanic. They are meeting because the Montroses were to financially back the play Rickman was about to produce with Felby in the lead. The latter two are trying to convince Montrose to continue her parents' good works, while letting her think it was her idea.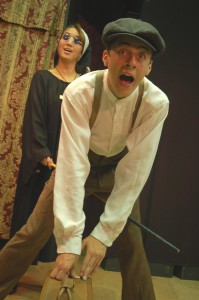 The laughs begin as the Irish newsboy Danny O'Sullivan (Cameron Parker) shouts out the insensitive teasers, interrupting their conversation and upsetting Montrose. "World mourns. Thousands perish. Frozen corpses pulled from the icy waters. Headless corpse found clutching infant." Rickman tries to hush the newsboy as Montrose runs off crying.
However, she returns and the wine is poured and poured and poured. Sheltered Montrose finds she likes it. "That's good. Can I have another glass of this wine?" She also reveals that she's always wanted to act, so as she gets more tipsy, she decides she will star in Rickman's new production, which will be about her parents on the Titanic, a elegy to them, and portraying her as the perfect daughter.
Consternation for both Rickman and Felby, for what part is the famous actress going to play? Surely not an old woman, namely Mrs. Montrose? Rickman realizes Montrose is no actress and arranges for acting lessons from professional Billy O'Sullivan (Jay Parker, also the author of the play), renamed as William Shakespeare. Only O'Sullivan thinks he has another assignment.
Mixed up missions and mistaken identities cause the evil Dr. Twist (Ruben Aguilar) from the insane asylum to haul off the wrong patient instead of the real crazy person, Agnes (Kimberly Aguilar); a blind nun carries off the wrong suitcase; bodies are dumped into a trunk; Danny has to wear a dress as the show must go on. The show within the show does go on and on behind the backlighted scrim as the actors and their stand-in pick up the cues. The hilarity is reminiscent of "Noises Off."
Laughs abound from start to finish. You will definitely get your money's worth–better than a movie.
Music arrangement and score by Oscar Bustillo–great! Costume Design by Claudia Estrada–perfect! All of the players are members of the Mosaic Lizard troupe except for newcomer, but not new to the stage, Lindsey Warm, who fits in wonderfully with this zany bunch. Standing applause for all!
Two hours with intermission.
"Iceberg Ahead" will continue through May. Jose Garcia will alternate in the role of Rickman, Nora Jesse as Conception, and Matthew Dorio as Twist.
Dinner next door at Frontera's Mexican restaurant at 10% off if you show your ticket. Again, another bargain, for the food is excellent.
The Mosaic Lizard has added Saturday and Sunday matinees at 2 to the Friday and Saturday performances at 8. Adults $12, seniors and students $10. Located at 112 West Main Street in Alhambra, a block and a half west of Garfield.
Reservations at www.lizardtheater.com or call 626 457 5293.
Leave a Response