Van Der Wyk Double Champion at SCC Track Finals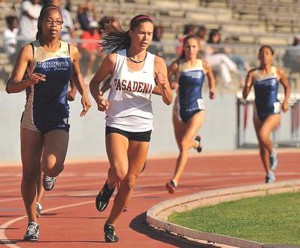 Sophomore Tracee van der Wyk raced to victories in the 800-meter and 1,500m races to highlight the Pasadena City College women's team performances at the South Coast Conference Finals meet held at Mt. San Antonio College April 29.
A repeat champion in the 1,500, van der Wyk was six seconds faster than the next finisher in winning the 2011 race at 4:41.80. She then made it three individual conference titles in her two seasons at PCC with her 800-race triumph in a time of 2:13.93. The talented harrier also placed third in the 10,000 meters at 39:19.33, and was part of a third-place 4×400 relay squad with Jonice Rivers, Tenia Sebastian, and Marquetta Stokes (3:55.33).
The Lancers placed fifth in the 8-team conference standings with 48 points. Mt. San Antonio won the conference team title.
Sebastian placed fourth in the 400 meters (57.68) and Melanie Samvalian was fifth in the shot put with a toss of 38-0.75. The 4×100 relay team finished in fifth (Rivers, Stokes, Natasha Darkuah, and Sebastian).
PCC MEN'S KOREY BROWN WINS SCC 400
Korey Brown became the first Lancer in four years to win the 400-meter sprint at the SCC Finals. Brown's winning time of 47.37 just edged out Mt. San Antonio's Andres Becerra (47.99). Pasadena's Stephen Peevy placed fourth in the race (48.30). The Lancers finished in fourth at the finals with 78 points while the Mounties won the men's team title (276.5).
The Lancers had several second place marks, including the region's second best time in the 4×100 relay as Marques Stanley, Ron Spears, Peevy, and Brown raced 41.37. Mt. SAC barely won the event at 40.77 with Cerritos right there in third at 41.57. Eddie Tripp, Brown, Spears, and Peevy grabbed runner-up in the 4×400 relay (3:16.57) also won by the Mounties (3:14.14).
PCC's Steve Williams settled for second in the high jump at 6-foot-6, but Mt. SAC's Nick Hall accomplished the feat in less attempts to win the conference title.
Tripp placed third in the 400 hurdles at 53.60 and fourth in the 110 hurdles (14.86). Richard Zarazua grabbed fourth in the 1,500 meters at 3:57.63 as did Spears in the 100 dash (10.62). Lancer Daniel Walker was a surprising fourth in the javelin with a throw of 157-3. Will Zentmyer was fifth in the 10,000 meters (33:39.94).
The PCC track and field teams are directed by first-year head coach Larry Wade and assistant coaches Armand Crespo and Pat Williams.
PCC ATHLETES QUALIFY LARGE GROUP FOR SOCAL PRELIMS MAY 6 AT MT. SAC
The following is a list of PCC athletes qualified for the Southern California Prelims meet Friday, May 6 at Mt. San Antonio College:
WOMEN
Van der Wyk, 800, 1,500 (second fastest seed time for both events)
Sebastian, 400
Rebecca Nunez, 1,500
Elizabeth Lyons, 1,500
Samvalian, shot put
4×400 relay and 4×100 relay
MEN
Brown, 400 (second fastest time in region)
Williams, high jump
Peevy, 400,
Tripp, 110 and 400 hurdles
Spears, 100
Zarazua, 800, 1,500
Stanley, 200
Zentmyer, 10,000
Robert Pachorek, long jump
Khambrell Gomez, discus
Walker, javelin
4×100 and 4×400 relays
Alternates (qualify only if people scratch ahead of them)
Women–Kim Wong, discus; Lyons, 10,000; Darkuah, 400, Nunez, 800;
Men-Gomez, shot put; Pachorek, javelin; Zarazua, 10,000; Vincent Bryant, 400; Zentmyer, 5,000
[Photo--Tracee van der Wyk runs to two SCC titles at the South Coast Conference Finals Friday at Mt. San Antonio College, image courtesy of Dean Lofgren and www.gocollegetrack.com]
Leave a Response