TIME FOR RECOVERY
By Mona Raskin
The 9.0 Earthquake and Tsunami has left the island of Japan reeling in tears of despair and helplessness!  Their recovery will obviously be a very slow and painful one.
Yet, here at home, we should be trying to find a way to alleviate some of the misery from this horrific event. On April 16th & 17th will be the annual "Cherry Blossom Festival" It will take place at the same location, Barnes Park! This event has always been a favorite of mine! Hopefully, many of our residents will be able to join us especially at this time to transmit a little empathy and concern for our Japanese community! They do need much cheering up now!
They say "April Showers bring May flowers" Well we sure hope so. In fact, the rainy weather has hopefully subsided and we will now be able to truly enjoy a fantastic "Cherry Blossom Festival".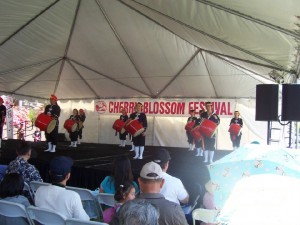 A brief schedule of events include entertainment, game zone, crafts and a variety of foods!
Official Program
Traditional Japanese dance groups
Hawaii/ Polynesian dance groups
Various Paiko & Taiko groups
Traditional Brush Art
Japanese Tea Ceremony
Origami & Ikebana Demonstrations
The above menu may be hard to fulfill in one afternoon but it surely will be a worthwhile way to absorb as much as possible while you will be learning about a very interesting and unique culture!
Leave a Response