One-Man Show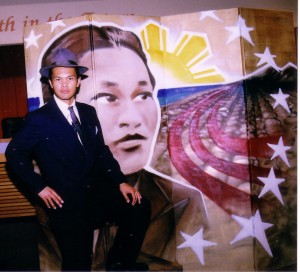 Joseph Malonzo performed "The Story of Carlos Bulosan" in his one-man show sponsored by East West Players' Theatre for Youth Program at the Monterey Park City Council Chambers on March 12. He played multiply characters of Carlos, his brothers, his mother, his girlfriend and his employers. He did an excellent job of changing characters by changing his props and the pitch of his voice.
Carlos Bulosan, an American hero, grew up impoverished in a rural farming village on the island of Luzon in the Philippines. He like so many immigrants came to America to seek a better life when he followed his brothers to America.  He faced violence, racism and exploration as a migrant worker. He was nearly beaten to death when he traveled from Washington to California.
Mr. Bulosan used his writing to combat discrimination and became an advocate for migrant workers rights.  In 1946, his semi-autobiographical novel  "America is in the Heart" became the voice of the Filipino immigrants experience.
Carlos Bulosan's story is a testament to one man's courage and spirit in a country that rejected him, yet he never ceased to love and believe in the country he called home, America.
"The Story of Carlos Bulosan" by Giovanni Ortega, who adapted his play from "America is in the Heart".
Dom Magwili directed the play. He used a minimal amount of props on the stage. The most impressive prop was a picture of Carlos Bulosan painted by spray cans on a screen by "Sano".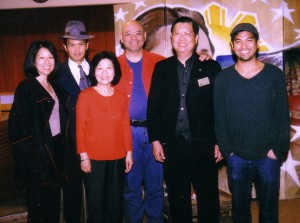 Producer Marilyn Tokuda, Actor Joseph Malonzo, Cici Lau, actress and member of the Friends of the Library, Director Dom Magwili, Councilmember David Lau and Writer Giovanni Ortega.
The play was hosted by Monterey Park Bruggemeyer Library and sponsored by a generous grant from Southern California Edison.
Ms. Tokudo stated the East West Players are educating the youth of the local schools about the Asian Pacific heroes. They are producing art for the students since the schools are not able for provide the arts in their curriculum.
Leave a Response