1,500 Race Win for Van Der Wyk at Mt. Sac Relays
Pasadena City College women's track and field racer Tracee van der Wyk ran the state's third fastest time in winning the 1,500 meters race at the 53rd Mt. SAC Relays Saturday.
Already holding the current second fastest mark in the event, the sophomore van der Wyk crossed the finish line in 4:38.70, beating Glendale's Alyssa Selve at 4:42.02. Van der Wyk's biggest challenger for the future SoCal and CCCAA state titles should come from Orange Coast College runner Sara Toberty, whose team did not participate at the Mt. San Antonio College event.
Van der Wyk ran a then state-best time of 4:35.24 at the March 5 Ben Brown Invitational since broken by Toberty, who ran a 4:28.85 at the UC Irvine Invitational March 19.
For the state's No. 6-ranked Lancers, Tenia Sebastian took 10th in the 400 meters at 59.19. In the 800, van der Wyk was a disappointing 11th overall at 2:25.21 while Rebecca Nunez was 20th (2:29.91). Holding the state's fastest mark back at the March Occidental College Distance Carnival, van der Wyk raced more than 13 seconds slower in this race.
PCC continues to climb among top teams competing in the 4×400 relay. The squad of Jonice Rivers, Sebastian, van der Wyk, and Marquetta Stokes placed fourth with a mark of 4:02.72. The Lancers ran slightly faster at the Pasadena Relays last week. They currently stand 11th in the state in that race.
In the 5,000 meters, Elizabeth Lyons placed 22nd overall at 19:39.90. In the shot put, Melanie Samvalian threw 36 feet, 1.25 inches for 16th place.
MEN RANKED NO. 8 IN STATE
PCC Head Coach Larry Wade has successfully helped placed his Lancers in the Top 10 state rankings for both men and women. The PCC men's team was rated for the first time all year in the No. 8 spot.
At the 53rd Mt. SAC Relays, Eddie Tripp ran a 14.84 seconds to place fourth in the 110 hurdles. It was his fastest time this season and is No. 6 on the current state list. In the 400 hurdles, Tripp won his Section 2 heat at a season-best 54.72 seconds, taking seventh overall in the event. He is 11th in the state.
In the high jump, Steven Williams placed fourth at 6-6. He is tied for sixth in the state with an earlier season jump of 6-8. Jordan Sanders took 12th place in the shot put with a throw of 47-4.5.
In the 4×400 relay, Wade split up his state-leading squad to make up two formidable fours. The result was nearly identical times turned in by the Section 3 heat winning team of Korey Brown, Ron Spears, Vincent Bryant, and Mark Booker (3:22.09) and Section 1 eighth place finishing group of Stephen Peevy, Marques Stanley, Tripp, and Daylon Wright (3:22.13).
Will Zentmyer finished eighth in the 5,000 meters at 15:42.67. In the 200 dash, Stanley won his Section 3 heat at 22.02, a time that was 13th overall. Richard Zarazua took 14th in the 800 (1:57.82) and 17th in the 1,500 (4:02.92).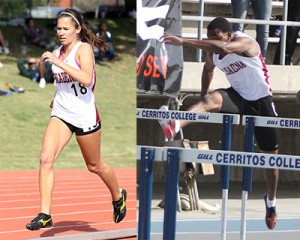 Tracee van der Wyk (left) and Eddie Tripp (right) in action during recent meets, image created by Richard Quinton.
STATE BEST 4X400 TIME TURNED IN BY HOST AT 1ST PASADENA TRACK RELAYS
Explosive relay teams have been a constant during the history of Pasadena City College men's track and field. The 2011 team couldn't have picked a better place to record the state's current fastest time in the 4×400 relay in a race held during the inaugural Pasadena Relays invitational meet at PCC's Robinson Stadium Saturday.
The Lancers squad of Eddie Tripp, Korey Brown, Ron Spears and Stephen Peevy ran a blistering 3:13.40 mark to top the new leader board in California Community Colleges for the event. Ironically, the time was only good enough for second place at the meet, losing to the private track club DoublePillar Athletics (3:11.06).
PCC's 4×100 relay team of Marques Stanley, Spears, Peevy, and Brown won that event, edging out Long Beach with a 41.44 finish to 42.02 by the Vikings. Pasadena moved up to fifth in the state listings.
It was a banner day overall for the Lancers, who entertained the home crowd with two event wins by sophomore distance runner Richard Zarazua, a fast victory by Brown in the 400-meter dash, and a first place by Jordan Sanders in the shot put.
Zarazua ran a 1:57.81 to capture the 800 and easily won the 1,500 by 13 seconds over the next best finisher at 4:01.57. In what might have been the race of the day–the 400, Brown dashed a blazing 48.45 seconds to beat Chaffey's Jaylan Mabry (48.54). The times stand as the No. 5 and No. 6 top marks, respectively, in the state this year.
Sanders won the shot put with a throw of 14.45 meters as teammate Khambrell Gomez was second with a toss of 13.67.
"Considering we ran the meet at a stadium named after PCC historic athletic greats in Jackie and Mack Robinson, I hope people can see that our track and field program is alive and well on our campus," said PCC men's and women's track and field head coach Larry Wade, who also was meet director for the Pasadena Relays.
"We've been practicing hard to improve our relays times. I had a feeling we might turn in a great time here. Going up against an experienced club team gave the 4×400 guys some added incentive to compete. Now we've established that we could be a winner in this event at the big three meets."
Wade was referring to the South Coast Conference Finals (April 29 at East Los Angeles College), the Southern California Championships (May 13 at Mt. San Antonio College), and the CCCAA State Meet (May 20-21 at Sacramento's American River College).
WOMEN'S HIGHLIGHTS AT THE PASADENA RELAYS
It was business as usual for PCC women's track and field distance runner Tracee van der Wyk, who recorded the Lancers lone wins at the Pasadena Relays in the 800 and 1,500-meter races. Van der Wyk won the 800 at 2:15.22 and the 1,500 in a time of 4:45.62, a mark that was more than 30 seconds faster than the second place finisher.
Melanie Samvalian, who joined the track team after helping PCC's women's basketball team reach the SoCal quarterfinals, had to settle for second place in the shot put. Her 11.75 meters toss was just short of Cerritos thrower Destini Poplar's mark of 11.82.
Tenia Sebastian took fifth place in the 400 meters at 59.43 seconds. Wade recently put together a new 4×400 relay team of Jonice Rivers, Sebastian, van der Wyk, and Marquetta Stokes (also a basketball player) that placed second in 4:00.93. The time is 11th in the state.
The PCC women's team was rated No. 6 in the Top 10 state rankings, based on a combination of the top listed times for individual events located on www.directathletics.com
Leave a Response